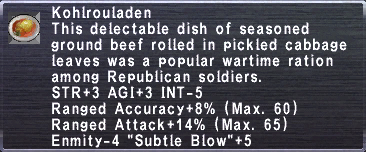 Statistics
Kohlrouladen
This delectable dish of seasoned
ground beef rolled in pickled cabbage
leaves was a popular wartime ration
among Republican soldiers.
Stackable: Not Stackable
Food Effects:
(
3 hours
,
All Races
)
Other Uses
Synthesis Recipes
Cooking
(
74
/85
)
Yield: Kohlrouladen x 1
HQ 1: Kohlrouladen +1 x 1
How to Obtain
Only obtainable through synthesis.
Historical Background
Kohlrouladen is a german variation of Cabbage rolls. Actually not made with walrus meat but normal ground meat mixed from pork and beef, wrapped in white cabbage, then stewed in a broth.
Community content is available under
CC-BY-SA
unless otherwise noted.