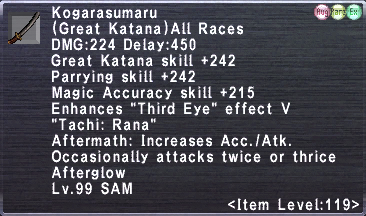 Statistics
Damage Per Second: 29.87
TP Per Hit: 115
Enhances "Third Eye" Ability V
Enhances "Third Eye" increases anticipation rate about 15% and adds a 25% Counter chance to Third Eye's effect.
Hidden Effect
Other Uses
How to Obtain
Oboro's Mythic Reforging Service
Players with

Scintillating Rhapsody can have Oboro reforge their Kogarasumaru (99-2) using 300 chunks of Beitetsu.
Upgrade from Kogarasumaru (119) via the Mythic Great Katana Trials
Community content is available under
CC-BY-SA
unless otherwise noted.