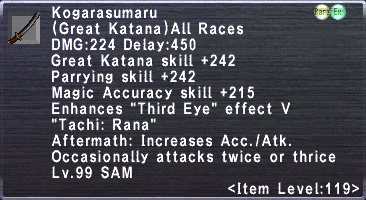 Statistics
Damage Per Second: 29.87
TP Per Hit: 115
Enhances "Third Eye" Ability V
Enhances "Third Eye" increases anticipation rate about 15% and adds a 25% Counter chance to Third Eye's effect.
Hidden Effect
Other Uses
How to Obtain
Oboro's Mythic Reforging Service
Players with

Scintillating Rhapsody can have Oboro reforge their Kogarasumaru (99) using 300 chunks of Beitetsu.
Community content is available under
CC-BY-SA
unless otherwise noted.