New Pokemon Games - The Loop
Play Sound
Walkthrough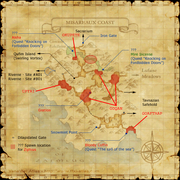 Alsha will cast Silence, Paralyze, and various damage spells, but will occasionally also Cure III you.
You'll receive a few messages in combat as Alsha loses HP. Once she is reduced to around 20%, the message will show up that "Large drops of oil begin pouring from the eyes on the mannequin" (this is the third message), and Alsha will repeatedly cast Fire II on herself until she dies.
You or anyone in your party must deal the final blow to defeat her; if she kills herself, you will have to rezone and try to kill her again.
Once Alsha is defeated, each member of your party can select the ??? again for a cutscene in which they obtain the Better Humes and Mannequins and complete the quest.
Return to Mhaura and talk to Fyi Chalmwoh to receive your reward.
Notes

Once the quest is completed, Fyi Chalmwoh will change the pose of any mannequin you own as often as you'd like, for 200 gil each time.
Game Description
Client

Enaremand (Third floor, Tavnazian Safehold)

Summary

Eneremand's final masterpiece is complete, but not as complete as he would like. The troubled mannequin craftsman has now asked you to help him find a necromancer in order to breathe life into his creation...