Statistics

Level Sync 50: DEF:35 MP+10 Stats+1

View the entire Kirin's Osode Set.
Other Uses
Synthesis Recipes
None
Used in Recipes
Desynthesis Recipes

Obtained from Desynthesis
How to Obtain
Dropped From
Synergy
Scrap Source
Potential Augments (max)
Byakko Scrap

Resist Paralyze +5
Dual Wield +1~3
Accuracy +1~7
Attack +1~7
Resist Poison +1~5
Evasion +1~7
Crit. hit rate +1~2%


Genbu Scrap

Regen +2
Attack +5
Physical Damage Taken -5%
Resist Stun +5
Evasion +7

Seiryu Scrap

Water +1
Light +6
Rng. Atk. +1~6
Accuracy +1~2
Evasion +1~5
"Snapshot" +1~3


Suzaku Scrap

Light +5
DEX +1~2
STR ~+4
Double Attack +1~2
Attack +1~7
Evasion +1~7
Accuracy +1~7
Ranged Attack +1~4
Crit. hit damage +1~3%

Up to three augments may be present upon achieving Smooth Synergy results. The amount of augments you receive is determined by the HQ tier. HQ tier 2 gives you 2 stats and HQ tier 3 gives you 3 stats on the item.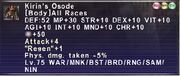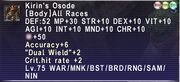 Community content is available under
CC-BY-SA
unless otherwise noted.