Job:
Family: Corse
Crystal: Dark
Weak to: Light

Notorious Monster
Zone

Level

Drops

Steal

Spawns

Notes

56-58

1

A, H, HP

A = Aggressive; NA = Non-Aggresive; L = Links; S = Detects by Sight; H = Detects by Sound;
HP = Detects Low HP; M = Detects Magic; Sc = Follows by Scent; T(S) = True-sight; T(H) = True-hearing
JA = Detects job abilities; WS = Detects weaponskills; Z(D) = Asleep in Daytime; Z(N) = Asleep at Nighttime; A(R) = Aggressive to Reive participants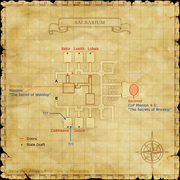 Notes:
Spawns at L-8 on the chapel map approximately every 20-30 minutes.
Only spawns at night (20:00 - 04:00). Keremet will remain present during the day but will not respawn until night at least 4 game hours after last kill.
Six Azren Kuba and six Azren Kuguza will all link with and assist Keremet if it is attacked.
Azren Kuba and Azren Kuguza will despawn when Keremet is defeated.
Involved in Promathia Mission 4-3 - The Secrets of Worship.
Aggressive to players level 99
Soloable by several jobs. (see testimonials)
Historical Background
Among the Cheremis and Mordvin tribes (Finno-Ugric peoples), keremet are fenced-in sanctuaries or sacred groves which were considered the living places of dead heroes and ghosts. Keremet was also a mischievous god in Slavic mythology.
Community content is available under
CC-BY-SA
unless otherwise noted.