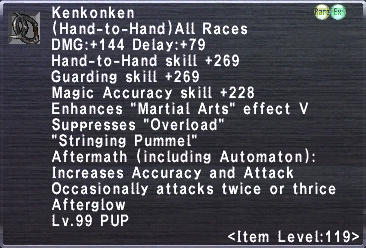 Statistics
Damage Per Second: +30.91*
TP Per Hit: +5*
*Base delay for Hand-to-Hand is assumed to be 480.
Augments
Oboro will augment this for qualified players using Swart Astral Detritus and Murky Astral Detritus. Max Rank (15) augment below
Other Uses
How To Obtain
Oboro's REMA Upgrades
Qualified players may trade Oboro either:
Community content is available under
CC-BY-SA
unless otherwise noted.