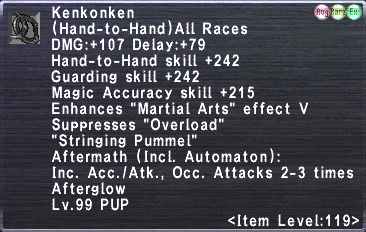 Statistics
Damage Per Second: +22.97*
TP Per Hit: +5*
*Base delay for Hand-to-Hand is assumed to be 480.
Enhances "Martal Arts" effect V
Reduces weapon Delay by 55.
Hidden Effect
Other Uses
How To Obtain
Cannot be auctioned, traded, bazaared, or delivered.


Cannot be obtained as a random reward from the Gobbie Mystery Box Special Dial and similar sources.
Oboro's Mythic Reforging Service
Oboro will reward this item in exchange for Kenkonken (99-2) and 300 chunks of Beitetsu.
Upgrade from Kenkonken (119) via the Hand-to-Hand Trials: