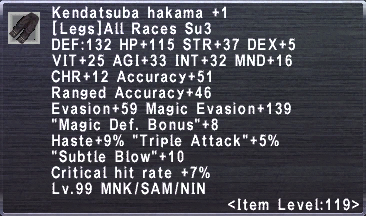 Statistics
Other Uses
Synthesis Recipes
Woodworking 115~119

, Alchemy (

)
Yield: Kendatsuba Hakama x 1
HQ 1: Kendatsuba Hakama +1 x 1
How to Obtain
Only obtainable through synthesis.
Derivations
Kendatsuba: 乾闥婆 (kendatsuba) is the Japanese name for Gandharva, a low-ranking Deva in Buddhist cosmology. Gandharvas can fly through the air, and are known for their skill as musicians. They are connected with trees and flowers, and are described as dwelling in the scents of bark, sap, and blossoms. (Wikipedia)
Community content is available under
CC-BY-SA
unless otherwise noted.