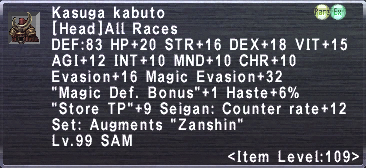 Statistics
Can be stored with a Porter Moogle using Storage Slip 20.
Other Uses
How to Obtain
Depending on the starting piece, trade the corresponding set of items to
Monisette
at
Port Jeuno
(
I-8
)
Your reforged piece will be ready the next game day.
Derivations
春日 refers to the 春日派 (kasugaha) armorers active from the 14th to the 16th century in Nara, Japan. (Kotobank)
烏帽子形兜 (eboshi-nari-kabuto) are styled decorative helms (Wikipedia) made to resemble eboshi, the peaked hat first worn by Heian period Japanese aristocrats (Wikipedia), more modernly seen worn by referees at Sumo matches. (Wikipedia)
Community content is available under
CC-BY-SA
unless otherwise noted.