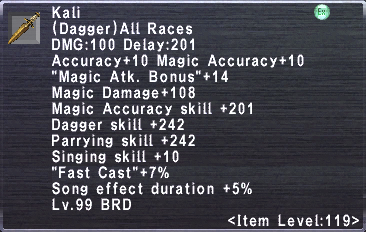 Statistics
Damage Per Second: 29.85
TP Per Hit: 55
Augments
Arcane Glyptics Inscription: Can be augmented by Nolan with Eschalixirs/+1/+2. Max Augments below
Other Uses
How to Obtain
Cannot be auctioned, traded, or bazaared, but can be delivered to a character on the same account.


Can be obtained as a random reward from the Gobbie Mystery Box Special Dial and similar sources.
Geas Fete
200 Points
Historical Background
Kālī (/ˈkɑːli/; Sanskrit: काली), also known as Kālikā or Shyama (Sanskrit: कालिका), is a Hindu goddess. Kali is one of the ten Mahavidyas, a list which combines Sakta and Buddhist goddesses.[1]
References