Job: Warrior
Family: Goobbue
Crystal: Water
Weak against: Fire , Lightning

Notorious Monster
Zone
Level
Drops
Steal
Spawns
Notes
Pashhow Marshlands
27 - 28
1
A, H
~1,000 HP
??? MP
Nyzul Isle

Floors 81 - 99

1
A, H

A = Aggressive; NA = Non-Aggresive; L = Links; S = Detects by Sight; H = Detects by Sound;
HP = Detects Low HP; M = Detects Magic; Sc = Follows by Scent; T(S) = True-sight; T(H) = True-hearing
JA = Detects job abilities; WS = Detects weaponskills; Z(D) = Asleep in Daytime; Z(N) = Asleep at Nighttime; A(R) = Aggressive to Reive participants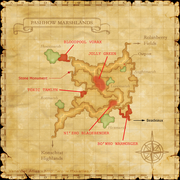 Notes
Pashhow Marshlands
Lottery Spawn from the single Goobbue around Luremarsh (I-7/8, J-8). NM no longer has a minimum respawn time; after defeating Jolly Green and then his placeholder, Jolly Green has a chance to respawn.

The placeholder is the Goobbue after three Carnivorous Crawler and before a single Malboro in the widescan list. It is usually the second Goobbue in the Widescan list if you are located around I-7/I-8. The placeholder respawns every 5-6 minutes.

Killing this NM is required to complete the quest The Miraculous Dale.
Can drop multiple Dahlias.
Soloable by level 36 or earlier for most jobs.
Placeholder ID 0D0
(see testimonials)
Nyzul Isle
| | | | | | | |
| --- | --- | --- | --- | --- | --- | --- |
| Hunt Registry | Elusiveness | Ferocity | Required Scylds | Rewarded Scylds | Evolith | Evolith |
| Bastok Mines (I-9) | 3 | 3 | 0 | 10 | Vs. beasts: Accuracy +2 | |
Historical Background
This monster is possibly based on the Jolly Green Giant, an advertising icon for Green Giant brand peas. The Jolly Green Giant appeared as a cartoon in advertisements starting in 1928 and later commercials throughout the later half of the 20th century, being a muscular figure with green skin, green hair, and wearing a tunic, wreath, and boots made out of leaves. The ads were most known for their jingle: "Ho! Ho! Ho! Green Giant!".
Community content is available under
CC-BY-SA
unless otherwise noted.