New Pokemon Games - The Loop
Play Sound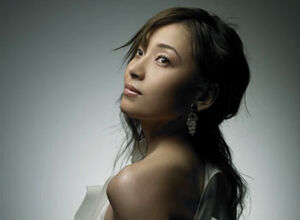 Izumi Masuda (増田 いずみ) graduated from the Vocal Course at Kunitachi College of Music and received a Master's degree in Opera at the same school, where she studied with Kyoto Ito. After then, she received numerous awards at various competitions. At the same time, she built her career by performing in many operas and other vocal music, including "Le nozze di Figaro," "The telephone," "The medium," "Die lustigen Weiber von Windsor," "Simon Boccanegra," "Symphony No. 9 Choral," and Fauré's "Messe de Requiem."
In 1997, she was appointed as a fellowship artist by the Japanese Government Overseas Opera Study Program for Artists, which enabled her to continue her study in New York for three years. She took the vocal lessons with Daniel Fellow, a professor of Juilliard School of Music and drama lessons at Hunter College. Triggered by her study abroad, she found unlimited possibility of music in pops and musicals.
In 2001, she performed as a prima for a length of time in "Candide" produced by Amon Miyamoto and was highly praised by critics and audience alike. In 2002, she commissioned Italian composer Ennio Moricone to write her a song "La Sua Donna," which was then featured on the NHK Drama "Musashi" and attracted the attention of public. She has been active in many fields, and in one occasion the lyricist Yu Aku gave her an original lyric, and in another occasion her song "Heal My Heart" was selected as the theme song of the movie "Quill."
Izumi Masuda performed Distant Worlds for FINAL FANTASY XI in her first collaboration with Nobuo Uematsu.
Discography
Heal My Heart (2003)
Red Swan (2004)
Romeo & Juliet (2005)