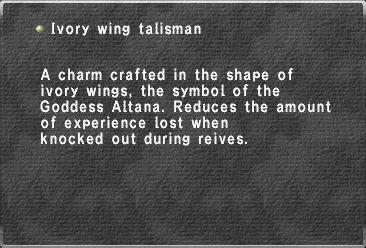 Ivory wing talisman
Description:
A charm crafted in the shape of
ivory wings, the symbol of the
Goddess Altana. Reduces the amount
of experience lost when
knocked out during reives.

Obtained:
Two of them can be obtained from
Reja Ygridhi
after completing
Order Up
. Each requires the following quests:
First Talisman
Ceizak Battlegrounds
Foret de Hennetiel
Morimar Basalt Fields
Yahse Hunting Grounds
Second Talisman
All of the above, plus the following:
Rala Waterways
Morimar Basalt Fields
Marjami Ravine
Yorcia Weald
Kamihr Drifts
Outer Ra'Kaznar
Community content is available under
CC-BY-SA
unless otherwise noted.