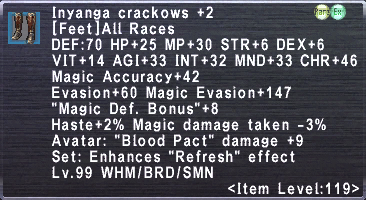 Statistics
Set:
Refresh +1~4 when 2+ set pieces are worn. Despite having 6 pieces in the set, the Refresh effect caps out at 4 MP every 3 seconds.
Localization Error:
The item help text lists two values for Magic Evasion. The first value should be for physical Evasion +60.
Can be stored with a Porter Moogle using Storage Slip 23.
Other Uses
How to Obtain
Cannot be auctioned, traded, bazaared, or delivered.


Cannot be obtained as a random reward from the Gobbie Mystery Box Special Dial and similar sources.
Upgrading