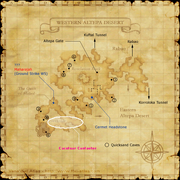 Walkthrough
!!WARNING!! The weapon Skill Dimidiation does not currently(Dec. 30th 2015) count toward breaking the latent.
You must perform Weapon Skills and Skillchains on monsters that con Easy Prey or higher.
Weapon Skills performed while under Level Sync will count.
You receive 1 point for opening/soloing a weaponskill, 2 points for closing a Lv.1 Skillchain, 3 points for closing a Lv.2 Skillchain and 5 points for closing a level 3 Skillchain.
You must accumulate 300 total points.
To check to see if the latent effect has disappeared, simply check your equipment menu. If the latent effects aren't there anymore, you are done (it is unnecessary to unequip and reequip the weapon).
Game Description
Client

Gumbah (House, Bastok Mines)

Summary

Gumbah has received a letter from the Dark Knight, Zeid. This correspondence states that to prevent Werei's technique from fading into oblivion, we are to train with a certain sword the great warrior left behind.