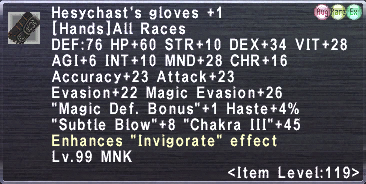 Statistics
Augments
Comes augmented with:
Enhances "Invigorate" effect
Enhances Invigorate effect adds 2 HP/tick regen effect per merit level to Invigorate when worn on activation (can be removed). This will give Chakra a 800 HP regen, over the course of 120 seconds (with 5/5 merits).
Can be stored with a Porter Moogle using Storage Slip 18.
Other Uses
How to Obtain
Trade the following items to
Monisette
at
Port Jeuno
(
I-8
)
Your upgraded piece will be ready the next game day.
Community content is available under
CC-BY-SA
unless otherwise noted.