Zone

Level

Drops

Steal

Spawns

Notes

34

1

A = Aggressive; NA = Non-Aggresive; L = Links; S = Detects by Sight; H = Detects by Sound;
HP = Detects Low HP; M = Detects Magic; Sc = Follows by Scent; T(S) = True-sight; T(H) = True-hearing
JA = Detects job abilities; WS = Detects weaponskills; Z(D) = Asleep in Daytime; Z(N) = Asleep at Nighttime; A(R) = Aggressive to Reive participants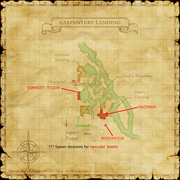 Notes:
Spawn by trading a Honey to three ??? at (G-7) or (I-10), during the night (22:00-4:00). After 4:00, if a ??? that had Honey traded to it is examined, there is a chance of the NM spawning.
The ??? despawn at 07:00 and must be checked prior to then.
Killable by: Solo at level 45
High resistance to physical damage.
Takes normal damage from magic based weapon skills.
Video