Dead Cells Final DLC - The Loop
Play Sound
Job: Ranger
Family: Orcs
Crystal: Fire
Weak to: Water

Notorious Monster
Zone

Level

Drops

Steal

Spawns

Notes

26-28

1

A, L, S, Sc
~1,280 HP


81

1

A, L, T(S), Sc

A = Aggressive; NA = Non-Aggresive; L = Links; S = Detects by Sight; H = Detects by Sound;
HP = Detects Low HP; M = Detects Magic; Sc = Follows by Scent; T(S) = True-sight; T(H) = True-hearing
JA = Detects job abilities; WS = Detects weaponskills; Z(D) = Asleep in Daytime; Z(N) = Asleep at Nighttime; A(R) = Aggressive to Reive participants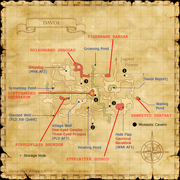 Notes: (Davoi)
Lottery Spawn from the Orcish Cursemakers around the pool at L-8 to L-9 every 1-3 hours.
Though NM map shows he pops right by the lake, he can pop anywhere his placeholders can, including L-8 and near the border of K-8 and K-9.
Has about 1200 HP.
Uses Eagle Eye Shot, which can be powerful.
Needs to be killed 3 times for Trial 711 while having the WHM club Rageblow equipped on either hand.
Will drop either Archer's Knife or Assassin's Bow, so Treasure Hunter is thought to have no effect.
Soloable by most jobs around 40.
(see testimonials)
Notes: (La Vaule (S))
Lottery Spawn from the single Orcish Bowshooter near the pond in (L-9).
Uses powerful ranged attacks rapidly (200~300). Melee hits are average for the Orcs in the area (80~120).

This can make him simpler to kite once he starts moving into melee range.

Has a strong resistance to Enfeebling Magic, though easily slept with a light-based Sleep.
Uses Eagle Eye Shot around 50~60%.
(see testimonials)