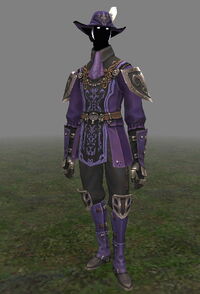 Haudrale
Notes
One of the Spitewardens of Lady Lilith, the commander of the "Knights of the Rustwing Hawk" appears to be an elvaan fomor. He does not get along with Aquila.
Involved in Missions
Battle Info
Job:
Family: Fomors
Crystal: Dark
Weak to: Light

Mission Boss

| | |
| --- | --- |
| | This article is missing a picture of the monster, NM, or pet. You can help by adding it. |
Zone
Level
Drops
Steal
Spawns
Notes
Throne Room (S)
1
A, S
15,000~15,000 HP
??? MP

A = Aggressive; NA = Non-Aggresive; L = Links; S = Detects by Sight; H = Detects by Sound;
HP = Detects Low HP; M = Detects Magic; Sc = Follows by Scent; T(S) = True-sight; T(H) = True-hearing
JA = Detects job abilities; WS = Detects weaponskills; Z(D) = Asleep in Daytime; Z(N) = Asleep at Nighttime; A(R) = Aggressive to Reive participants
Notes:
Community content is available under
CC-BY-SA
unless otherwise noted.