Fire Emblem Warriors: Three Hopes - The Loop
Play Sound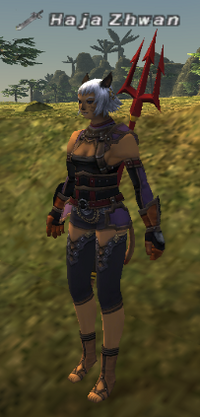 Haja Zhwan
Race:
Affiliation:
Occupation:
Mercenary General
Notes
Appears during Campaign Battles as the leader of the Wildcat Volunteers.
Taking part in Campaign Battles, Haja Zhwan will frequently be found in differing locations. While not out by Campaign Fortifications, she will be found in Windurst Waters (S) by the entrance.
Uses both Detonator and her signature Bloody Quarrel weaponskill.
Talk: If only the Parliament of Patriarchs would loosen the strings on their purses a little more, I would be outside right now roasting up a couple birdmen to snack on!
Battle Cry: Time to go to work!
Involved in Quests
Notes
Uses a unique weapon skill called Bloody Quarrel.
Related to

Koja Zhwan

and Naja "Salaheem" Zhwan.
Belongs to the royal family of the island kindgom Zhwa.
Possibly mother of Naja, but not confirmed/still unknown at the moment.