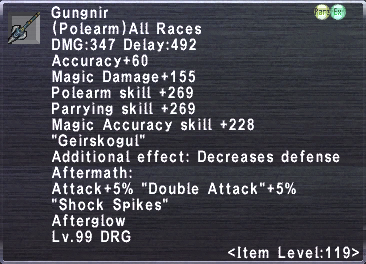 Statistics
Damage Per Second: 42.32
TP Per Hit: 133
Augments
Oboro will augment this item for qualified players using Swart Astral Detritus / Murky Astral Detritus. Max rank augments shown:
DMG: +20 Geirskogul: DMG: +20% All Jumps Damage +15%
Other Uses
How to Obtain
Cannot be obtained as a random reward from the Gobbie Mystery Box Special Dial and similar sources.
Oboro REM Reforging
Eligible players can receive this item by trading the following
Community content is available under
CC-BY-SA
unless otherwise noted.