Job:
Family: Golem
Crystal: Light
Weak to:

Notorious Monster
Title Obtained: Goliath Killer

‎
Zone

Level

Drops

Steal

Spawns

Notes

62

4

A, S, M

A = Aggressive; NA = Non-Aggresive; L = Links; S = Detects by Sight; H = Detects by Sound;
HP = Detects Low HP; M = Detects Magic; Sc = Follows by Scent; T(S) = True-sight; T(H) = True-hearing
JA = Detects job abilities; WS = Detects weaponskills; Z(D) = Asleep in Daytime; Z(N) = Asleep at Nighttime; A(R) = Aggressive to Reive participants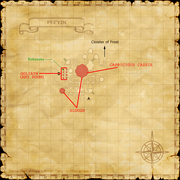 Lottery Spawn from the Colossus in the rooms at (F-6) - (F-7) underground.
Only one placeholder will be up at a given time. Respawn time is five minutes in a random room.
Can be next pop after death.
Notes
Can spawn every hour after death, but can be longer.
Killable by: 3 characters level 60, or most jobs solo at 75
Aggressive to level 90 characters.
(see testimonials)
Community content is available under
CC-BY-SA
unless otherwise noted.