Fire Emblem Warriors: Three Hopes - The Loop
Play Sound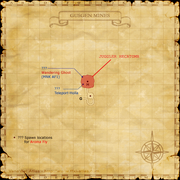 Walkthrough
Go due north across the first map and down the stairs. Use the western door to enter the second map.
Go to the room in the northwest corner and follow the corridor that runs on the west side from this room to the next room.
Take the passage in the NW corner, which is in the SW corner of (F-5). Follow it down.
Go to the second room. The ??? is located on the left side of the room in the NW corner.
Game Description
Client

Oggbi (Steaming Sheep Restaurant, Port Bastok)

Summary

You are to go to the Gusgen Mines and pass the same trial as Oggbi's former student, Cornelia. Use a pickaxe on a certain hole in the mines to lure the Wandering Ghost out. Defeat it and bring back its "miner's pendant."