Notes
Amount of Magic Evasion reduction based on combined skill and "Geomancy +" equipment.
Lowest value (Skill total of 0): 1
Highest value (Total skill of 900): 50
Geomancy +: 5%
Maximum Potency (900 skill + Idris equipped): 100
Locating the Reservoir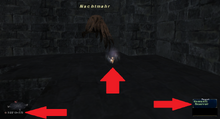 There are undead that detect via sound and low HP near the reservoir.
Macro Syntax
How to Obtain
Cannot be auctioned, traded, or bazaared, but can be delivered to a character on the same account.


This item is currently missing Gobbie Mystery Box info.
---