Geas Fete focuses on battling the notorious monsters that dwell in the new Escha - Zi'Tah and Escha - Ru'Aun area.
Defeating these notorious monsters will grant the victors experience and capacity points, escha silt and beads—unique currencies specific to Escha—as well as powerful equipment specific to each monster. Adventurers can also find eschalixirs, a mysterious grey liquid used to enhance these items.
How to participate
Progress through Rhapsodies of Vana'diel Missions 1-10.
Form a party of three to eighteen members.
Escha - Zi'Tah entrance is located Undulating Confluence (G-8) Qufim Island near HP#1.
Escha - Ru'Aun entrance is located Undulating Confluence (G-5) Misareaux Coast near HP#1.
Earn a currency called Slit by defeating monsters found in Escha zones.

Slit accumulates at a rate of 1% of total experience points earned from the defeat of a foe.
Current amount of slit earned is displayed under the Currency 2 tab of the status menu.
Purchasing a Eschan urn from Affi or Dremi will allow players to hold up to slit and 10,000 beads.
Purchasing a Eschan cellar from Affi or Dremi will allow players to hold up to slit and beads.

Every party member must possess a Tribulens key item and the party leader must have a grisly trinket corresponding to the appropriate notorious monster.

Alter egos can be called forth for Geas Fete, but they do not count towards the required number of party members.
Preparing for battle
1. Acquiring the first key item
Speak to Affi Escha - Zi'Tah (F-10) or Dremi Escha - Ru'Aun (H-11) and exchange escha silt for a tribulens.
Every player must possess Tribulens in order to spawn an NM.
2. Acquiring the second key item
The second "grisly trinket" key item differs based on the notorious monster.

Each "grisly trinket" key item bears a different name for its corresponding notorious monster.

Speak to Affi or Dremi and select "Receive grisly trinket memorandums" to see a list of each grisly trinket and their prices.
Exchange silt for the grisly trinket that corresponds to your target notorious monster.

Affi also accepts a Holy Sword as payment to obtain the key item. (Holy Swords can be obtained from any RoE representative for about 400 sparks.)
Dremi also acepts .

Only the party leader needs the grisly trinket key item to spawn the NM.
---
Vorseals are minor buffs that a player can have applied by Affi for the cost of slit.

Vorseals only have to be purchased once, but the effect wears after 60 minutes.

Re-zoning will automatically reapply the buffs.

Vorseals are obtained by defeating the various NMs located in Escha.

Are also possibly obtained by defeating various Unity Concord wanted NMs.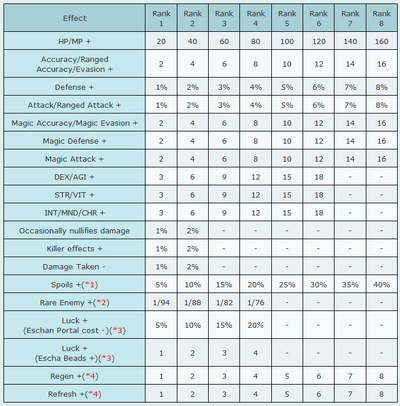 Luring the monsters
The notorious monster will appear when the party leader inspects the ??? target located in any corner of Escha - Zi'Tah or Escha - Ru'Aun, while in possession of both a tribulens and the appropriate grisly trinket.
Vanquishing these fearsome foes rewards players with a variety of spoils and escha silt and beads.

The key items are consumed upon summoning the monsters.
Augmenting Equipment
Equipment dropped by the NMs of Escha can be engraved with arcane glyptics in stages by exchanging eschalixirs to Nolan in Norg (I-7).
A preliminary mezzotinting process is performed after one of four different enhancement paths is selected. Mezzotinting does not require any eschalixira, but it does cost silt to perform.
Applying eschalixir to mezzotinted equipment will enhance its properties through several progressively stronger ranks. (Up to rank 15.)
Item details follow below.

Type: Selected path.

Rank: Current equipment enhancement rank.

NextRP: The number of rank points required before the next rank is reached.
It is possible to check and change upgrade paths at any point in the process in exchange for slit.
Equipment dropped by the notorious monsters defeated in Geas Fete can be mezzotinted under a different path while retaining its previous enhancements.
Eschalixirs
Eschalixirs +1 and +2 can also be obtained from defeating the notorious monsters that roam Escha or are engaged in Geas Fete.
Enhancing equipment with a higher grade eschalixir will grant more rank points than lower quality ones.
Abjurations
Various abjurations can be obtained from Escha - Ru'Aun NMs.
They are used in conjunction with new cursed armor which can be obtained from crafting or from purchasing from the auction house.
The uncursed items are listed under the Escha - Ru'Aun rewards section, along with the possible augments that can be unlocked via Nolan in Norg.

The NMs actually drop the abjuration used in uncursing the new cursed items; instead, for simplicity, the end result of the abjuration process is listed below in the Escha Rewards section
Zi'Tah Rewards
T1 NMs
NM
Item
Description
Augment
Aglaophotis
Eschite Gauntlets
[Hands] All Races

DEF:104 HP+29 STR+12 DEX+29 VIT+33 INT+8 MND+25 CHR+19 Attack+22 Evasion+22 Magic Evasion+26 "Magic Def. Bonus"+1 Divine magic skill +20 Haste+4% "Store TP"+3
LV 99 WAR PLD DRK

A: HP+80 Enmity+7 PDT-4%
B: MP+80 ACC+10 Enmity+7
C: MEVA+15 Spell Interruption Rate -15% Enmity+7
D: ACC+20 DA+4 Enmity+7

Aglaophotis
Naga Kyahan
[Feet] All Races

DEF:67 HP+63 STR+14 DEX+15 VIT+11 AGI+34 MND+12 CHR+29 Accuracy+18 Attack+18 Evasion+69 Magic Evasion+64 "Magic Def. Bonus"+3 Haste+4% "Double Attack"+3% Automaton: All skills +10
LV 99 MNK SAM NIN PUP

A: STR+10 ACC+10 Subtle Blow+7
B: HP+50 VIT+10 EVA+20
C: Pet: MP+80 Auto: Cure Potency+4% Fast Cast+3
D: Pet: HP+100 ATK+25 ACC+25

Aglaophotis
Psycloth Vest
[Body] All Races

DEF:123 HP+54 MP+59 STR+21 DEX+21 VIT+21 AGI+21 INT+32 MND+29 CHR+29 "Magic Atk. Bonus"+25 Evasion+41 Magic Evasion+80 "Magic Def. Bonus"+6 Dark magic skill +21 Haste+3% Enmity-7
LV 99 BLM RDM SMN BLU SCH GEO

A: MP+50 INT+7 Conserve MP+6
B: MND+7 MACC+10 Spell Interruption Rate-15%
C: Pet: ATK+25 MAB+15 Enmity+7
D: INT+7 Elemental Magic Skill+20 Enmity-6

Aglaophotis
Marked Gorget
[Neck] All Races

AGI+3 Ranged Accuracy+15 Ranged Attack+15 Enmity-3 "Store TP"+2
LV 99 WAR MNK WHM BLM RDM THF PLD DRK BST BRD RNG SAM NIN DRG SMN BLU COR PUP DNC SCH GEO RUN

N/A
Angrboda
Despair Mail
[Body] All Races

DEF:143 HP+121 STR+30 DEX+29 VIT+30 AGI+23 INT+23 MND+23 CHR+23 Accuracy+23 Evasion+44 Magic Evasion+64 "Magic Def. Bonus"+5 Haste+4% Pet: "Double Attack"+3%
LV 99 WAR RDM PLD DRK BST RNG SAM DRG BLU RUN

A: HP+50 VIT+10 Potency of "Cure" effect received +5%
B: STR+12 VIT+7 Haste +2%
C: ACC+10 Pet: VIT+7 DMG taken -3%
D: ATK+25 MEVA+20 DA+3

Angrboda
Rawhide Trousers
[Legs] All Races

DEF:112 HP+47 STR+33 VIT+16 AGI+24 INT+30 MND+17 CHR+11 Magic Accuracy+20 Evasion+38 Magic Evasion+69 "Magic Def. Bonus"+5 Enhancing magic skill +10 Haste+6% "Tactical Parry"+15
LV 99 MNK THF RNG NIN BLU COR PUP DNC RUN

A: DEX+10 STR+7 INT+7
B: HP+50 ACC+15 EVA+20
C: ACC+15 Pet: ACC+15 DA+3
D: MP+50 Fast Cast+5 Refresh+1

Angrboda
Vanya Hood
[Head] All Races

DEF:99 HP+36 MP+32 STR+18 DEX+18 VIT+18 AGI+18 INT+23 MND+27 CHR+27 Evasion+36 Magic Evasion+75 "Magic Def. Bonus"+5 Haste+6% "Conserve MP"+6 "Cure" potency +10% Magic damage taken -2%
LV 99 WHM BLM RDM BRD SMN SCH GEO

A: MP+50 Cure Potency+7% Enmity-6
B: Healing Magic Skill+20 "Cure Spellcasting Time-7% MDT-3%
C: MND+10 Spell Interruption-15% Conserve MP+6
D: MP+50 Fast Cast+10 Haste+2%

Angrboda
Lucidity Sash
[Waist] All Races

DEF:5 Summoning magic skill +7 "Blood Boon"+5 Avatar perpetuation cost -2
LV 99 SMN

N/A
Cunnast
Despair Finger Gauntlets
[Hands] All Races

DEF:99 HP+57 STR+15 DEX+34 VIT+34 AGI+8 INT+16 MND+31 CHR+21 Accuracy+18 Attack+18 Evasion+22 Magic Evasion+43 "Magic Def. Bonus"+2 Haste+5% Wyvern: HP+150
LV 99 WAR RDM PLD DRK BST RNG SAM DRG BLU RUN

A: HP+50 VIT+10 Potency of "Cure" effect received +5%
B: STR+12 VIT+7 Haste +2%
C: ACC+10 Pet: VIT+7 DMG taken -3%
D: RACC+25 RATK+20 "Recycle"+10

Cunnast
Rawhide Boots
[Feet] All Races

DEF:73 HP+13 STR+18 DEX+24 VIT+12 AGI+37 MND+18 CHR+30 Accuracy+23 Evasion+72 Magic Evasion+69 "Magic Def. Bonus"+5 Haste+4% "Dual Wield"+3 "Waltz" potency +8%
LV 99 MNK THF RNG NIN BLU COR PUP DNC RUN

A: DEX+10 STR+7 INT+7
B: HP+50 ACC+15 EVA+20
C: ACC+15 Pet: ACC+15 DA+3
D: STR+10 ATK+15 Store TP+5

Cunnast
Vanya Robe
[Body] All Races

DEF:127 HP+54 MP+59 STR+23 DEX+23 VIT+23 AGI+23 INT+31 MND+36 CHR+36 Magic Accuracy+21 "Magic Def. Bonus"+6 Evasion+41 Magic Evasion+80 Divine magic skill +20 Enfeebling magic skill +20 Haste+3% Damage taken -1%
LV 99 WHM BLM RDM BRD SMN SCH GEO

A: MP+50 Cure Potency+7% Enmity-6
B: Healing Magic Skill+20 "Cure Spellcasting Time-7% MDT-3%
C: MND+10 Spell Interruption-15% Conserve MP+6
D: HP+50 MP+50 Refresh+2

Cunnast
Willpower Grip
[Sub] All Races

Magic Accuracy+3 "Magic Atk. Bonus"+5
LV 99 WAR MNK WHM BLM RDM THF PLD DRK BST BRD RNG SAM NIN DRG SMN BLU COR PUP DNC SCH GEO RUN

N/A
Ferrodon
Despair Greaves
[Feet] All Races

DEF:82 HP+15 STR+19 DEX+16 VIT+15 AGI+33 MND+11 CHR+28 Accuracy+17 Evasion+52 Magic Evasion+80 "Magic Def. Bonus"+3 Haste+4% "Double Attack"+2% Pet: Accuracy+17 Ranged Accuracy+17
LV 99 WAR RDM PLD DRK BST RNG SAM DRG BLU RUN

A: HP+50 VIT+10 Potency of "Cure" effect received +5%
B: STR+12 VIT+7 Haste +2%
C: ACC+10 Pet: VIT+7 DMG taken -3%
D: DEX+10 STR+7 PDT-3%

Ferrodon
Pursuer's Doublet
[Body] All Races

DEF:128 HP+109 MP+44 STR+24 DEX+29 VIT+21 AGI+30 INT+23 MND+23 CHR+23 Ranged Accuracy+25 Ranged Attack+25 Evasion+49 Magic Evasion+64 "Magic Def. Bonus"+6 Haste+4% "Store TP"+6
LV 99 THF RNG NIN COR

A: AGI+10 Rapid Shot+10 Subtle Blow+7
B: AGI+10 DEX+7 Recycle+15
C: HP+50 ATK+15 ACC+20
D: HP+50 Crit Hit+4% Snapshot+6

Ferrodon
Vanya Slops
[Legs] All Races

DEF:106 HP+43 MP+29 STR+25 VIT+12 AGI+17 INT+44 MND+34 CHR+29 Magic Accuracy+20 Evasion+27 Magic Evasion+107 "Magic Def. Bonus"+6 Haste+5% "Conserve MP"+6
LV 99 WHM BLM RDM BRD SMN SCH GEO

A: MP+50 Cure Potency+7% Enmity-6
B: Healing Magic Skill+20 "Cure Spellcasting Time-7% MDT-3%
C: MND+10 Spell Interruption-15% Conserve MP+6
D: HP+50 MEVA+15 PDT-3%

Ferrodon
Subtlety Spectacles
[Neck] All Races

DEF:9 HP+20 Accuracy+15 "Subtle Blow"+4
LV 99 WAR MNK WHM BLM RDM THF PLD DRK BST BRD RNG SAM NIN DRG SMN BLU COR PUP DNC SCH GEO RUN

N/A
Gestalt
Despair Helm
[Head] All Races

DEF:113 HP+38 STR+21 DEX+21 VIT+20 AGI+20 INT+20 MND+20 CHR+20 Accuracy+20 Attack+20 Evasion+36 Magic Evasion+53 "Magic Def. Bonus"+2 Haste+8% Pet: Accuracy+20 Ranged Accuracy+20 Attack+20 Ranged Attack+20
LV 99 WAR RDM PLD DRK BST RNG SAM DRG BLU RUN

A: HP+50 VIT+10 Potency of "Cure" effect received +5%
B: STR+12 VIT+7 Haste +2%
C: ACC+10 Pet: VIT+7 DMG taken -3%
D: STR+15 Enmity+7 STP+3

Gestalt
Rawhide Gloves
[Hands] All Races

DEF:90 HP+25 STR+13 DEX+41 VIT+34 AGI+7 INT+14 MND+32 CHR+19 Accuracy+20 Magic Accuracy+20 Evasion+24 Magic Evasion+37 "Magic Def. Bonus"+2 Blue Magic skill +10 Haste+5% Spell interruption rate down 15%
LV 99 MNK THF RNG NIN BLU COR PUP DNC RUN

A: DEX+10 STR+7 INT+7
B: HP+50 ACC+15 EVA+20
C: ACC+15 Pet: ACC+15 DA+3
D: MND+7 INT+7 MACC+15

Gestalt
Psycloth Shoes
[Feet] All Races

DEF:66 HP+13 MP+74 STR+10 DEX+11 VIT+10 AGI+33 INT+17 MND+19 CHR+34 Evasion+55 Magic Evasion+107 "Magic Def. Bonus"+5 Haste+3% Avatar: Accuracy+20 Attack+20 "Double Attack"+3%
LV 99 BLM RDM SMN BLU SCH GEO

A: MP+50 INT+7 Conserve MP+6
B: MND+7 MACC+10 Spell Interruption Rate-15%
C: Pet: ATK+25 MAB+15 Enmity+7
D: Pet: MAB+20 MACC+20 Enmity+7

Gestalt
Disperser's Cape
[Back] All Races

DEF:10 Potency of "Banish" vs. undead +7 "Resist Paralyze"+20 Healing magic casting time -5%
LV 99 WHM BLM RDM BRD SMN BLU PUP SCH GEO

N/A
Gulltop
Naga Somen
[Head] All Races

DEF:98 HP+86 STR+17 DEX+24 VIT+19 AGI+19 INT+18 MND+18 CHR+18 Accuracy+18 Evasion+38 Magic Evasion+43 "Magic Def. Bonus"+4 Haste+8% Magic damage taken -3%
LV 99 MNK SAM NIN PUP

A: STR+10 ACC+10 Subtle Blow+7
B: HP+50 VIT+10 EVA+20
C: Pet: MP+80 Auto: Cure Potency+4% Fast Cast+3
D: ACC+15 RACC+25 Enmity-6

Gulltop
Pursuer's Cuffs
[Hands] All Races

DEF:88 HP+25 STR+11 DEX+35 VIT+29 AGI+17 INT+12 MND+30 CHR+17 Ranged Attack+20 "Magic Atk. Bonus"+20 Evasion+24 Magic Evasion+37 "Magic Def. Bonus"+2 Haste+5% Enmity-7
LV 99 THF RNG NIN COR

A: AGI+10 Rapid Shot+10 Subtle Blow+7
B: AGI+10 DEX+7 Recycle+15
C: HP+50 ATK+15 ACC+20
D: STR+7 RATK+15 PDT-4%

Gulltop
Vanya Clogs
[Feet] All Races

DEF:70 HP+13 MP+14 STR+10 DEX+11 VIT+10 AGI+33 INT+17 MND+19 CHR+34 Evasion+55 Magic Evasion+107 "Magic Def. Bonus"+5 Healing magic skill +20 Haste+3% "Cure" potency +5% "Cursna"+5
LV 99 WHM BLM RDM BRD SMN SCH GEO

A: MP+50 Cure Potency+7% Enmity-6
B: Healing Magic Skill+20 Cure Spellcasting Time-7% MDT-3%
C: MND+10 Spell Interruption-15% Conserve MP+6
D: Cure Potency+5% Cure Casting Time-15% Conserve MP+6

Gulltop
Infused Earring
[Ear] All Races

AGI+4 Evasion+10 "Regen"+1
LV 99 WAR MNK WHM BLM RDM THF PLD DRK BST BRD RNG SAM NIN DRG SMN BLU COR PUP DNC SCH GEO RUN

N/A
Lustful Lydia
Eschite Breastplate
[Body] All Races

DEF:148 HP+153 MP+35 STR+34 DEX+19 VIT+34 AGI+19 INT+19 MND+19 CHR+19 Attack+20 Evasion+41 Magic Evasion+48 "Magic Def. Bonus"+4 Haste+3%
LV 99 WAR PLD DRK

A: HP+80 Enmity+7 PDT-4%
B: MP+80 ACC+10 Enmity+7
C: MEVA+15 Spell Interruption Rate -15% Enmity+7
D: VIT+7 ATK+15 DT-4%

Lustful Lydia
Naga Hakama
[Legs] All Races

DEF:110 HP+97 STR+37 VIT+19 AGI+21 INT+32 MND+17 CHR+10 Evasion+33 Magic Evasion+64 "Magic Def. Bonus"+3 Haste+6% "Dual Wield"+4 Pet: Accuracy+20 Ranged Accuracy+20
LV 99 MNK SAM NIN PUP

A: STR+10 ACC+10 Subtle Blow+7
B: HP+50 VIT+10 EVA+20
C: Pet: MP+80 Auto: Cure Potency+4% Fast Cast+3
D: ATK+20 RATK+25 Crit Hit+4%

Lustful Lydia
Psycloth Tiara
[Head] All Races

DEF:94 HP+36 MP+32 STR+18 DEX+18 VIT+18 AGI+18 INT+26 MND+26 CHR+23 Evasion+36 Magic Evasion+75 "Magic Def. Bonus"+5 Summoning magic skill +15 Haste+6% Enmity-6 Avatar: "Magic Atk. Bonus"+20
LV 99 BLM RDM SMN BLU SCH GEO

A: MP+50 INT+7 Conserve MP+6
B: MND+7 MACC+10 Spell Interruption Rate-15%
C: Pet: ATK+25 MAB+15 Enmity+7
D: INT+7 MACC+20 Fast Cast+10

Lustful Lydia
Seraphic Ampulla
[Ammo] All Races

INT+3 MND+3 "Occult Acumen"+7
LV 99 WHM BLM SMN PUP SCH GEO

N/A
Revetaur
Despair Cuisses
[Legs] All Races

DEF:126 HP+50 STR+34 VIT+21 AGI+17 INT+29 MND+16 CHR+16 Attack+23 Evasion+27 Magic Evasion+80 "Magic Def. Bonus"+4 Haste+6% Enmity+4 Pet: Attack+23 Ranged Attack+23
LV 99 WAR RDM PLD DRK BST RNG SAM DRG BLU RUN

A: HP+50 VIT+10 Potency of "Cure" effect received +5%
B: STR+12 VIT+7 Haste +2%
C: ACC+10 Pet: VIT+7 DMG taken -3%
D: AGI+10 EVA+20 Subtle Blow+7

Revetaur
Pursuer's Beret
[Head] All Races

DEF:97 HP+36 STR+22 DEX+23 VIT+16 AGI+28 INT+19 MND+19 CHR+20 Ranged Attack+23 Evasion+44 Magic Evasion+53 "Magic Def. Bonus"+2 Marksmanship skill +15 Haste+8% "Store TP"+5
LV 99 THF RNG NIN COR

A: AGI+10 Rapid Shot+10 Subtle Blow+7
B: AGI+10 DEX+7 Recycle+15
C: HP+50 ATK+15 ACC+20
D: RATK+15 Enmity-6 Subtle Blow+7

Revetaur
Vanya Cuffs
[Hands] All Races

DEF:86 HP+22 MP+44 STR+6 DEX+28 VIT+25 AGI+5 INT+19 MND+33 CHR+28 Evasion+22 Magic Evasion+37 "Magic Def. Bonus"+3 Singing skill +15 Haste+3%
LV 99 WHM BLM RDM BRD SMN SCH GEO

A: MP+50 Cure Potency+7% Enmity-6
B: Healing Magic Skill+20 "Cure Spellcasting Time-7% MDT-3%
C: MND+10 Spell Interruption-15% Conserve MP+6
D: CHR+10 String Skill+10 MACC+20

Revetaur
Grenade Core
[Ammo] All Races

Attack+13 "Magic Atk. Bonus"+5
LV 99 WAR THF DRK NIN RUN

N/A
Tangata Manu
Eschite Cuisses
[Legs] All Races

DEF:129 HP+52 MP+60 STR+35 VIT+21 AGI+16 INT+25 MND+12 CHR+10 Accuracy+23 Magic Accuracy+23 Evasion+22 Magic Evasion+64 "Magic Def. Bonus"+3 Dark magic skill +20 Haste+5%
LV 99 WAR PLD DRK

A: HP+80 Enmity+7 PDT-4%
B: MP+80 ACC+10 Enmity+7
C: MEVA+15 Spell Interruption Rate -15% Enmity+7
D: MAB+25 Conserve MP+6 Fast Cast+5

Tangata Manu
Rawhide Mask
[Head] All Races

DEF:100 HP+36 MP+23 STR+18 DEX+26 VIT+18 AGI+26 INT+18 MND+18 CHR+19 Attack+18 Evasion+44 Magic Evasion+53 "Magic Def. Bonus"+2 Haste+8% "Refresh"+1
LV 99 MNK THF RNG NIN BLU COR PUP DNC RUN

A: DEX+10 STR+7 INT+7
B: HP+50 ACC+15 EVA+20
C: ACC+15 Pet: ACC+15 DA+3
D: ATK+15 Pet: MACC+20 MAB+15

Tangata Manu
Psycloth Manillas
[Hands] All Races

DEF:81 HP+22 MP+14 STR+6 DEX+28 VIT+25 AGI+5 INT+25 MND+33 CHR+19 Magic Accuracy+17 "Magic Atk. Bonus"+17 Evasion+22 Magic Evasion+37 "Magic Def. Bonus"+3 Elemental magic skill +20 Haste+3% Avatar: Magic Accuracy+20
LV 99 BLM RDM SMN BLU SCH GEO

A: MP+50 INT+7 Conserve MP+6
B: MND+7 MACC+10 Spell Interruption Rate-15%
C: Pet: ATK+25 MAB+15 Enmity+7
D: MP+80 Blood Boon+5 Pet: MAB+25

Tangata Manu
Mendicant's Earring
[Ear] All Races

DEF:4 MP+30 "Conserve MP"+2 "Cure" potency +5% "Cure" spellcasting time -5%
LV 99 WAR MNK WHM BLM RDM THF PLD DRK BST BRD RNG SAM NIN DRG SMN BLU COR PUP DNC SCH GEO RUN

N/A
Wepwawet
Eschite Helm
[Head] All Races

DEF:116 HP+41 MP+23 STR+25 DEX+17 VIT+25 AGI+17 INT+15 MND+15 CHR+15 Attack+15 Accuracy+15 Magic Accuracy+20 Evasion+33 Magic Evasion+32 "Magic Def. Bonus"+2 Great Axe skill +15 Haste+7%
LV 99 WAR PLD DRK

A: HP+80 Enmity+7 PDT-4%
B: MP+80 ACC+10 Enmity+7
C: MEVA+15 Spell Interruption Rate -15% Enmity+7
D: STR+9 VIT+7 Cure Potency+7%

Wepwawet
Naga Tekko
[Hands] All Races

DEF:83 HP+65 STR+16 DEX+36 VIT+34 AGI+8 INT+12 MND+30 CHR+18 Evasion+22 Magic Evasion+26 "Magic Def. Bonus"+1 Haste+5% Damage taken -2% Pet: Attack+20 Ranged Attack+20
LV 99 MNK SAM NIN PUP

A: STR+10 ACC+10 Subtle Blow+7
B: HP+50 VIT+10 EVA+20
C: Pet: MP+80 Auto: Cure Potency+4% Fast Cast+3
D: Pet: MP+80 MAB+20 MACC+20

Wepwawet
Pursuer's Gaiters
[Feet] All Races

DEF:69 HP+13 STR+12 DEX+29 VIT+10 AGI+44 MND+12 CHR+30 Ranged Accuracy+20 Magic Accuracy+15 Evasion+72 Magic Evasion+69 "Magic Def. Bonus"+5 Haste+4% Enmity-7
LV 99 THF RNG NIN COR

A: AGI+10 Rapid Shot+10 Subtle Blow+7
B: AGI+10 DEX+7 Recycle+15
C: HP+50 ATK+15 ACC+20
D: RACC+10 Rapid Shot+10 Recycle+15

Wepwawet
Clemency Grip
[Sub] All Races

MP+30 "Divine Veil"+1%
LV 99 WAR MNK WHM BLM RDM THF PLD DRK BST BRD RNG SAM NIN DRG SMN BLU COR PUP DNC SCH GEO RUN

N/A
Vidala
Eschite Greaves
[Feet] All Races

DEF:91 HP+18 STR+21 DEX+12 VIT+22 AGI+29 MND+10 CHR+26 Evasion+49 Magic Evasion+64 "Magic Def. Bonus"+2 Haste+3% Enmity+8 Magic damage taken -3%
LV 99 WAR PLD DRK

A: HP+80 Enmity+7 PDT-4%
B: MP+80 ACC+10 Enmity+7
C: MEVA+15 Spell Interruption Rate -15% Enmity+7
D: HP+50 STR+15 Store TP+5

Vidala
Rawhide Vest
[Body] All Races

DEF:130 HP+59 MP+44 STR+30 DEX+35 VIT+26 AGI+30 INT+25 MND+25 CHR+25 Accuracy+15 Attack+15 "Magic Atk. Bonus"+25 Evasion+49 Magic Evasion+64 "Magic Def. Bonus"+6 Haste+4% "Triple Attack"+2%
LV 99 MNK THF RNG NIN BLU COR PUP DNC RUN

A: DEX+10 STR+7 INT+7
B: HP+50 ACC+15 EVA+20
C: ACC+15 Pet: ACC+15 DA+3
D: HP+50 Subtle Blow+7 TA+2

Vidala
Psycloth Lappas
[Legs] All Races

DEF:101 HP+43 MP+29 STR+25 VIT+12 AGI+17 INT+40 MND+30 CHR+19 Magic Accuracy+20 Evasion+27 Magic Evasion+107 "Magic Def. Bonus"+6 Enfeebling magic skill +18 Haste+5% Pet: Damage taken -4%
LV 99 BLM RDM SMN BLU SCH GEO

A: MP+50 INT+7 Conserve MP+6
B: MND+7 MACC+10 Spell Interruption Rate-15%
C: Pet: ATK+25 MAB+15 Enmity+7
D: MP+80 MACC+15 Fast Cast+7

Vidala
Overbearing Ring
[Finger] All Races

HP+45 Attack+15 Automaton: HP+45 Attack+15
LV 99 WAR MNK WHM BLM RDM THF PLD DRK BST BRD RNG SAM NIN DRG SMN BLU COR PUP DNC SCH GEO RUN

N/A
Yali (Escha)
Pursuer's Pants
[Legs] All Races

DEF:113 HP+47 MP+23 STR+35 DEX+3 VIT+17 AGI+29 INT+33 MND+20 CHR+14 Ranged Accuracy+23 Ranged Attack+23 Evasion+38 Magic Evasion+69 "Magic Def. Bonus"+5 Haste+6% "Rapid Shot"+9
LV 99 THF RNG NIN COR

A: AGI+10 Rapid Shot+10 Subtle Blow+7
B: AGI+10 DEX+7 Recycle+15
C: HP+50 ATK+15 ACC+20
D:

Yali (Escha)
Resonance Ring
[Finger] All Races

Elemental magic skill +8 Enmity-5 Magic critical hit rate +5%
LV 99 WAR MNK WHM BLM RDM THF PLD DRK BST BRD RNG SAM NIN DRG SMN BLU COR PUP DNC SCH GEO RUN

N/A
Yali (Escha)
Naga Samue
[Body] All Races

DEF:124 HP+119 STR+29 DEX+30 VIT+23 AGI+27 INT+26 MND+26 CHR+26 Attack+15 Evasion+52 Magic Evasion+53 "Magic Def. Bonus"+4 Haste+4% "Store TP"+5
LV 99 MNK SAM NIN PUP

A: STR+10 ACC+10 Subtle Blow+7
B: HP+50 VIT+10 EVA+20
C: Pet: MP+80 Auto: Cure Potency+4% Fast Cast+3
D: HP+80 DEX+10 ATK+20
T2 NMs
NM
Item
Description
Augment
Brittlis
Sensui
[Main] All Races

DMG:255 Delay:450 STR+7 DEX+7 Attack+10 Great Katana skill +242 Parrying skill +242 Magic Accuracy skill +188 Weapon Skill Accuracy+15
LV 99 SAM

Brittlis
Nibiru Harp
[Ranged] All Races

CHR+7 Magic Accuracy+10 "Carol"+2
LV 99 BRD

A: MP+50 MACC+10 All Songs+2
B: HP+50 CHR+10 All Songs+2
C: MP+50 Cure Potency+5% All Songs+2
D: MEVA+20 PDT-3% MDT-3%

Brittlis
Nibiru Faussar
[Main] All Races

DMG:259 Delay:456 STR+7 DEX+7 Attack+10 Great Sword skill +242 Parrying skill +242 Magic Accuracy skill +188 Potency of "Cure" effect received +10% "Aquaveil"+1
LV 99 PLD DRK RUN

A: STR+10 ATK+25 MACC+15
B: ATK+15 ACC+10 Store TP+5
C: EVA+20 MEVA+20 Fast Cast+5
D: VIT+10 ACC+25 PDT-4%

Brittlis
Purity Ring
[Finger] All Races

Magic Evasion+10 Potency of "Cursna" effects received +7 Magic damage taken -4% "Holy Water"+7%
LV 99 WAR MNK WHM BLM RDM THF PLD DRK BST BRD RNG SAM NIN DRG SMN BLU COR PUP DNC SCH GEO RUN

N/A
Ionos
Nibiru Santi
[Main] All Races

DMG:+107 Delay:+51 STR+7 VIT+7 Attack+10 Hand-to-Hand skill +242 Guarding skill +242 Magic Accuracy skill +188 "Store TP"+4 "Repair" potency +10%
LV 99 MNK PUP

A: STR+7 ACC+25 Subtle Blow+7
B: HP+50 ATK+20 Store TP+5
C: EVA+20 Enmity+7 PDT-3%
D: All Automaton Skills +20

Ionos
Nibiru Sickle
[Main] All Races

DMG:290 Delay:501 STR+7 INT+7 Attack+10 Scythe skill +242 Parrying skill +242 Magic Accuracy skill +188 "Double Attack"+3%
LV 99 DRK

Ionos
Nibiru Bow
[Ranged] All Races

DMG:274 Delay:600 STR+7 AGI+7 Ranged Accuracy+10 Archery skill +242 Enmity-7
LV 99 RNG

A: AGI+10 RACC+25 Enmity-6
B: HP+50 RATK+25 Rapid Shot+10
C: AGI+10 RATK+15 RACC+15
D: RATK+20 Recycle+15 Store TP+5

Ionos
Thaumaturge's Cape
[Back] All Races

MP+25 Enmity-10 "Conserve MP"+4
LV 99 WHM BLM RDM BRD SMN BLU PUP SCH GEO

N/A
Kamohoalii
Nibiru Blade
[Main] All Races

DMG:133 Delay:236 STR+5 DEX+5 Accuracy+7 Sword skill +242 Parrying skill +242 Magic Accuracy skill +188 "Double Attack"+2%
LV 99 RDM PLD BLU

A: DEX+10 ACC+20 MACC+15
B: STR+10 ATK+20 Store TP+3
C: MAB+15 MACC+15 MEVA+20
D: HP+50 DA+3 Fast Cast+5

Kamohoalii
Nibiru Cudgel
[Main] All Races

DMG:123 Delay:216 INT+11 MND+11 Magic Accuracy+7 "Magic Atk. Bonus"+16 Magic Damage+124 Club skill +242 Parrying skill +242 Magic Accuracy skill +215 "Cure" potency +10%
LV 99 WHM BLM RDM SMN BLU SCH GEO

A: MND+10 MACC+15 Cure Potency+15%
B: MP+50 INT+10 MAB+15
C: ACC+15 MACC+15 Fast Cast+3
D: MP+50 Pet: DMG taken-3% Regen+2

Kamohoalii
Nibiru Tabar
[Main] All Races

DMG:156 Delay:276 STR+5 VIT+5 Attack+7 Axe skill +242 Parrying skill +242 Magic Accuracy skill +188 Pet: Enmity+5 "Double Attack"+2%
LV 99 WAR BST

A: STR+10 ATK+20 Pet: ATK+20
B: ATK+15 ACC+15 Store TP+5
C: Pet: ATK+25 MAB+15 Enmity+7
D: CHR+15 Pet: Haste+3 DA+3

Kamohoalii
Forefathers' Grip
[Sub] All Races

HP+20 MP+20 Great Sword skill +7 "Magic Atk. Bonus"+3
LV 99 WAR MNK WHM BLM RDM THF PLD DRK BST BRD RNG SAM NIN DRG SMN BLU COR PUP DNC SCH GEO RUN

N/A
Nosoi
Mijin
[Main] All Races

DMG:107 Delay:190 STR+5 DEX+5 Accuracy+27 Ranged Accuracy+10 Ranged Attack+10 Evasion+34 Katana skill +228 Parrying skill +228 Magic Accuracy skill +215
LV 99 NIN

A: ATK+15 ACC+15 RACC+15
B: ACC+15 RACC+15 Store TP+5
C: INT+7 MAB+15 MACC+15
D: EVA+20 MEVA+20 Enmity+4

Nosoi
Nibiru Blade
[Main] All Races

DMG:133 Delay:236 STR+5 DEX+5 Accuracy+7 Sword skill +242 Parrying skill +242 Magic Accuracy skill +188 "Double Attack"+2%
LV 99 RDM PLD BLU

A: DEX+10 ACC+20 MACC+15
B: STR+10 ATK+20 Store TP+3
C: MAB+15 MACC+15 MEVA+20
D: HP+50 DA+3 Fast Cast+5

Nosoi
Nibiru Shield
[Sub] All Races

DEF:65 STR+5 VIT+5 Accuracy+7 Shield skill +112 Damage taken -6%
LV 99 PLD

A: HP+80 Enmity+7 PDT-5%
B: HP+80 MP+80 Fast Cast+7
C: MND+15 Cure Potency+5% Potency of "Cure" effect received +5%
D: ATK+15 ACC+15 Store TP+5

Nosoi
Calamitous Earring
[Ear] All Races

HP+15 MP+15 [Element: Air]+10 "Conserve MP"+4
LV 99 WAR MNK WHM BLM RDM THF PLD DRK BST BRD RNG SAM NIN DRG SMN BLU COR PUP DNC SCH GEO RUN

N/A
Sensual Sandy
Nibiru Knife
[Main] All Races

DMG:104 Delay:183 DEX+5 AGI+5 CHR+5 Evasion+29 Dagger skill +242 Parrying skill +242 Magic Accuracy skill +188 Critical hit rate +2%
LV 99 THF BRD DNC

A: ATK+15 ACC+20 EVA+20
B: DEX+7 ATK+20 Store TP+3
C: STR+15 DEX+10 CHR+10
D: MP+50 MEVA+20 Fast Cast+5

Sensual Sandy
Nibiru Lance
[Main] All Races

DMG:285 Delay:492 STR+7 DEX+7 Attack+10 Polearm skill +242 Parrying skill +242 Magic Accuracy skill +188 Haste+2%
LV 99 DRG

A: STR+10 ACC+20 DA+3
B: HP+50 ATK+15 ACC+15
C: Pet: HP+100 ATK+20 ACC+20
D: ACC+20 Pet: ACC+20 Store TP+5

Sensual Sandy
Nibiru Gun
[Ranged] All Races

DMG:119 Delay:600 DEX+7 AGI+7 Ranged Attack+10 Marksmanship skill +242 "Barrage" Accuracy+20
LV 99 RNG COR

A: STR+10 RACC+15 Store TP+3
B: HP+50 AGI+10 RACC+20
C: STR+10 RATK+15 RACC+15
D: STR+15 AGI+7 Store TP+7

Sensual Sandy
Sinew Belt
[Waist] All Races

DEF:7 STR+5 Attack+20 Enmity+3 "Double Attack"+4%
LV 99 WAR MNK THF BST NIN DNC RUN

N/A
Umdhlbi
Nibiru Chopper
[Main] All Races

DMG:293 Delay:504 STR+7 DEX+7 Attack+10 Great Axe skill +242 Parrying skill +242 Magic Accuracy skill +188 Physical damage taken -3%
LV 99 WAR

A: HP+50 STR+10 ACC+25
B: ATK+20 DA+3 Enmity+4
C: VIT+10 EVA+20 Counter+3
D: HP+80 Enmity+7 PDT-3%

Umdhlbi
Nibiru Staff
[Main] All Races

DMG:208 Delay:366 INT+19 MND+19 "Magic Atk. Bonus"+38 Magic Damage+217 Staff skill +242 Parrying skill +242 Magic Accuracy skill +228 "Fast Cast"+4% Pet: "Magic Atk. Bonus"+110
LV 99 BLM SMN SCH

A: MAB+25
B: MND+10 MACC+25
C:Pet: MAB+25 MACC+20
D: Pet: ATK+20 ACC+20 DA+3

Umdhlbi
Sapience Orb
[Ammo] All Races

Enmity+2 "Fast Cast"+2%
LV 99 WAR MNK WHM BLM RDM THF PLD DRK BST BRD RNG SAM NIN DRG SMN BLU COR PUP DNC SCH GEO RUN

N/A
T3 NMs
NM
Item
Description
Shockmaw
Annealed Lance
[Main] All Races

DMG:303 Delay:492 STR+20 Attack+40 Polearm skill +242 Parrying skill +242 Magic Accuracy skill +188 "Regain"+15
LV 99 DRG

Shockmaw
Doyen Pants
[Legs] All Races

DEF:108 HP+43 MP+32 STR+23 VIT+10 AGI+19 INT+34 MND+29 CHR+29 Evasion+38 Magic Evasion+107 "Magic Def. Bonus"+6 Haste+5% "Cure" spellcasting time -15% "Stoneskin" spellcasting time -10% Song spellcasting time -6%
LV 99 WHM BLM RDM BRD SMN BLU PUP SCH GEO RUN

Shockmaw
Inspirited Boots
[Feet] All Races

DEF:70 HP+9 MP+20 STR+8 DEX+8 VIT+8 AGI+29 INT+25 MND+17 CHR+32 "Magic Atk. Bonus"+20 Magic Damage+10 Evasion+60 Magic Evasion+118 "Magic Def. Bonus"+6 Haste+3% Duration of Refresh effects received +15
LV 99 WHM BLM RDM SMN SCH GEO

Shockmaw
Dampener's Torque
[Neck] All Races

HP+25 Accuracy+5 Attack+5 Magic damage taken -4%
LV 99 WAR MNK WHM BLM RDM THF PLD DRK BST BRD RNG SAM NIN DRG SMN BLU COR PUP DNC SCH GEO RUN

Urmahlulu
Chastisers
[Main] All Races

DMG:+119 Delay:+60 STR+20 Attack+33 Hand-to-Hand skill +242 Guarding skill +242 Magic Accuracy skill +188 "Triple Attack"+3% "TP Bonus"+300
LV 99 MNK PUP

Urmahlulu
Skormoth Mask
[Head] All Races

DEF:100 HP+36 STR+20 DEX+22 VIT+22 AGI+22 INT+21 MND+21 CHR+21 Accuracy+26 Evasion+38 Magic Evasion+43 "Magic Def. Bonus"+4 Haste+8% "Triple Attack"+4% Magic damage taken -3%
LV 99 WAR MNK THF BST NIN DNC RUN

Urmahlulu
Onca Suit
[Body] All Races

Cannot equip leggear DEF:428 HP+164 MP+88 STR+93 DEX+76 VIT+102 AGI+70 INT+51 MND+60 CHR+65 Accuracy+124 Attack+147 Evasion+149 Magic Evasion+252 "Magic Def. Bonus"+12 Haste+16% "Double Attack"+10% "Resist Stun"+90 Damage taken -10% Enchantment: Meteor
LV 99 WAR MNK WHM BLM RDM THF PLD DRK BST BRD RNG SAM NIN DRG SMN BLU COR PUP DNC SCH GEO RUN
<1/1 32/[00:60:0, 30]>

Urmahlulu
Eschan Stone
[Waist] All Races

DEF:9 HP+20 MP+20 Accuracy+15 Ranged Accuracy+15 Attack+15 Ranged Attack+15 Magic Accuracy+7 "Magic Atk. Bonus"+7
LV 99 WAR MNK WHM BLM RDM THF PLD DRK BST BRD RNG SAM NIN DRG SMN BLU COR PUP DNC SCH GEO RUN

Fleetstalker
Router
[Main] All Races

DMG:295 Delay:504 STR+20 Attack+40 Great Axe skill +242 Parrying skill +242 Magic Accuracy skill +188 "Quadruple Attack"+4% "Skillchain Bonus"+6
LV 99 WAR

Fleetstalker
Shrieker's Cuffs
[Hands] All Races

DEF:89 HP+22 MP+59 STR+6 DEX+28 VIT+25 AGI+5 INT+19 MND+33 CHR+19 Evasion+22 Magic Evasion+57 "Magic Def. Bonus"+3 Haste+3% "Conserve MP"+7 "Resist Silence"+25
LV 99 WHM BLM RDM BRD SMN BLU SCH GEO

Fleetstalker
Sweller's Harness
[Body] All Races

DEF:129 HP+59 STR+37 DEX+25 VIT+21 AGI+25 INT+24 MND+24 CHR+24 Attack+25 Evasion+52 Magic Evasion+53 "Magic Def. Bonus"+4 Guarding skill +20 Haste+4% "Counter"+5
LV 99 MNK SAM NIN PUP

Fleetstalker
Penetrating Cape
[Back] All Races

DEF:17 Attack+20 Pet: Attack+20 Ranged Attack+20 "Store TP"+4 Haste+2%
LV 99 WHM BLM RDM BRD SMN BLU PUP SCH GEO
T1 HELM NMs
NM
Item
Description
Blazewing
Kubira Meikogai
[Body] All Races

DEF:153 HP+166 MP+59 STR+29 DEX+17 VIT+32 AGI+17 INT+16 MND+16 CHR+16 Accuracy+25 Attack+25 Evasion+36 Magic Evasion+69 "Magic Def. Bonus"+4 Haste+3% Physical damage taken -10% Sphere: "Double Attack"+4%
LV 99 WAR PLD DRK BST SAM DRG

Blazewing
Falcon Eye
[Ammo] All Races

HP+10 DEX+3 Accuracy+13
LV 99 MNK THF RNG BLU COR PUP DNC RUN

Bucca, Puca, Alphuachra
Annointed Kalasiris
[Body] All Races

DEF:127 HP+52 MP+64 STR+20 DEX+20 VIT+20 AGI+20 INT+30 MND+33 CHR+29 Magic Accuracy+25 Evasion+41 Magic Evasion+80 Haste+3% "Magic Def. Bonus"+7 "Cure" potency +10% "Refresh"+2 Sphere: "Reraise"
LV 99 WHM BLM RDM BRD SMN PUP SCH GEO

Bucca, Puca, Alphuachra
Hermetic Earring
[Ear] All Races

Magic Accuracy+7 "Magic Atk. Bonus"+3
LV 99 WAR MNK WHM BLM RDM THF PLD DRK BST BRD RNG SAM NIN DRG SMN BLU COR PUP DNC SCH GEO RUN

Pazuzu
Makora Meikogai
[Body] All Races

DEF:144 HP+66 STR+36 DEX+32 VIT+36 AGI+19 INT+19 MND+19 CHR+19 Accuracy+15 Attack+15 "Magic Atk. Bonus"+10 Evasion+44 Magic Evasion+59 "Magic Def. Bonus"+4 Haste+3% Sphere: "Regain"+5
LV 99 WAR PLD DRK BST SAM DRG

Pazuzu
Empath Necklace
[Neck] All Races

Accuracy+10 Pet: Accuracy+10 Ranged Accuracy+10 Attack+5 Ranged Attack+10 "Regen"+1
LV 99 BST DRG SMN PUP
T2 HELM NMs
NM
Item
Description
Wrathare
Enforcer's Harness
[Body] All Races

DEF:135 HP+63 STR+25 DEX+42 VIT+24 AGI+28 INT+21 MND+21 CHR+21 Evasion+55 Magic Evasion+69 "Magic Def. Bonus"+6 Haste+4% Critical hit rate +4% Critical hit damage +5% Sphere: Critical hit rate +4%
LV 99 MNK THF BST RNG NIN BLU COR PUP DNC RUN

Wrathare
Warden's Ring
[Finger] All Races

Enemy critical hit rate -5% "Death" resistance +10 Physical damage taken -3%
LV 99 WAR MNK WHM BLM RDM THF PLD DRK BST BRD RNG SAM NIN DRG SMN BLU COR PUP DNC SCH GEO RUN
Ru'Aun Rewards
T1 NMs
NM
Item
Description
Augment
Met
Amalric Gages
[Hands] All Races

DEF:81 HP+13 MP+26 STR+3 DEX+23 VIT+20 AGI+2 INT+24 MND+34 CHR+19 Evasion+19 Magic Evasion+48 "Magic Atk. Bonus"+20 "Magic Def. Bonus"+3 Elemental magic skill +13 Haste+3% Magic burst damage +5 Spell interruption rate down 10%
LV 99 BLM RDM SMN BLU SCH GEO

A: MP+60 MAB+15 MACC+15
B: MP+60 INT+10 Enmity-5
C: INT+10 "Elemental Magic Skill" +15 "Dark Magic Skill "+15
D: INT+10 MAB+15 MACC+15

Met
Argosy Sollerets
[Feet] All Races

DEF:83 HP+22 STR+21 DEX+17 Accuracy+15 Attack+20 Evasion-8 Haste+3% "Store TP"+4
LV 99 WAR DRK BST

A: STR+10 DEX+10 ATK+15
B: HP+50 ATK+15 ACC+10
C: HP+50 STR+12 PDT-3%
D:

Bia
Emicho Gauntlets
[Hands] All Races

DEF:103 HP+34 MP+8 STR+11 DEX+34 VIT+32 AGI+7 INT+16 MND+30 CHR+19 Accuracy+15 Evasion+24 Magic Evasion+32 "Magic Def. Bonus"+1 Haste+4% "Store TP"+6 Pet: Attack+20 "Store TP"+6
LV 99 WAR PLD DRK BST DRG

A: HP+50 STR+10 ATK+15
B: HP+50 DEX+10 ACC+15
C: Pet: ATK+15 ACC+15 PDT-3%
D: ACC+20 Dual Wield+5 Pet: ACC+20

Bia
Rao Sune-Ate
[Feet] All Races

DEF:74 STR+17 DEX+20 VIT+12 AGI+34 MND+16 CHR+28 Accuracy+23 Evasion+69 Magic Evasion+64 "Magic Def. Bonus"+3 Haste+4% "Subtle Blow"+7 "Regen"+1
LV 99 MNK SAM NIN PUP

A: ACC+10 ATK+10 EVA+15
B: STR+10 DEX+10 ATK+15
C: Pet: HP+100 ACC+15 DT-3%
D: HP+50 "Crit Hit Rate+3" DA+2

Bia
Reti Pendant
[Neck] All Races

CHR+7 String instrument skill +9 Handbell skill +5 "Conserve MP"+4
LV 99 WAR MNK WHM BLM RDM THF PLD DRK BST BRD RNG SAM NIN DRG SMN BLU COR PUP DNC SCH GEO RUN

N/A
Bia
Albin Bane
[Ranged] All Races

DMG:66 Delay:240 HP+15 MP+15 Ranged Accuracy+20 Ranged Attack+20 Magic Accuracy+5 Throwing skill +242
LV 99 THF NIN BLU DNC

N/A
Ruea
Apogee Pumps
[Feet] All Races

DEF:62 HP-80 MP+41 STR+10 DEX+11 VIT+10 AGI+33 INT+21 MND+23 CHR+38 Evasion+55 Magic Evasion+118 "Magic Def. Bonus"+6 Haste+3% Avatar perpetuation cost -8 Avatar: HP+80 "Blood Pact" damage +1
LV 99 SMN

A: MP+60 Pet: MAB+30 Blood Pact Damage+7
B: MP+60 Pet: ATK+30 Blood Pact Damage+7
C: Pet: ATK+20 MAB+20 Blood Pact Damage+7
D: MP+70 "Summoning Magic Skill"+15 Blood Pact Damage+7

Ruea
Souveran Handschuhs
[Hands] All Races

DEF:111 HP+84 MP+14 STR+12 DEX+28 VIT+34 INT+6 MND+21 CHR+16 Accuracy+15 Attack+15 Evasion+19 Magic Evasion+48 "Magic Def. Bonus"+1 Magic damage taken -4% Haste+4% "Phalanx"+4
LV 99 WAR PLD

A: ACC+10 ATK+10 Enmity+4
B: HP+50 STR+10 ACC+10
C: HP+80 Enmity+7 Potency of "Cure" effect received+10%
D: HP+50 Shield Skill+10 PDT-3%

Ruea
Petrov Ring
[Finger] All Races

STR+3 DEX+3 VIT+3 AGI+3 Enmity+4 "Double Attack"+1% "Store TP"+5
LV 99 WAR MNK WHM BLM RDM THF PLD DRK BST BRD RNG SAM NIN DRG SMN BLU COR PUP DNC SCH GEO RUN

N/A
Ruea
Diemer Gorget
[Neck] All Races

DEF:11 Shield skill +7 "Cure" spellcasting time -4% Physical damage taken -6% LV 99 WAR PLD DRK BST DRG

N/A
Ma
Emicho Gambieras
[Feet] All Races

DEF:87 HP+22 MP+14 STR+17 DEX+23 VIT+12 AGI+38 MND+16 CHR+32 Accuracy+15 Attack+15 Evasion+52 Magic Evasion+69 "Magic Def. Bonus"+2 Haste+3% "Skillchain Bonus"+5 Pet: "Regen"+4 Wyvern: Absorbs damage taken +5%
LV 99 WAR PLD DRK BST DRG

A: HP+50 STR+10 ATK+15
B: HP+50 DEX+10 ACC+15
C: Pet: ATK+15 ACC+15 PDT-3%
D: ATK+20 Subtle Blow+4 Pet: ATK+25

Ma
Lustratio Mittens
[Hands] All Races

DEF:101 HP+15 STR+19 DEX+38 "Slow"+6%
LV 99 WAR THF PLD DRK BST BRD DRG DNC RUN

A: STR+5 ATK+15 DA+2
B: DEX+5 ACC+15 Crit Hit Rate+2
C: ATK+8 ACC+8 Store TP+4
D: VIT+10 DEX+7 ACC+25

Ma
Giuoco Grip
[Sub] All Races

"Conserve MP"+4 Magic Damage+7 Physical damage taken -1%
LV 99 WAR MNK WHM BLM RDM THF PLD DRK BST BRD RNG SAM NIN DRG SMN BLU COR PUP DNC SCH GEO RUN

N/A
Ma
Philidor Mantle
[Back] All Races

DEF:18 Enmity+5 Damage taken -5% Reduces distance knocked back +2
LV 99 WAR PLD

N/A
Khon
Almaric Nails
[Feet] All Races

DEF:66 HP+4 MP+26 STR+6 DEX+6 VIT+6 AGI+26 INT+21 MND+20 CHR+33 Evasion+60 Magic Evasion+118 Magic Damage+10 "Magic Atk. Bonus"+20 "Magic Def. Bonus"+6 Haste+3% "Fast Cast"+5% Spell interruption rate down 15%
LV 99 BLM RDM SMN BLU SCH GEO

A: MP+60 MAB+15 MACC+15
B: MP+60 INT+10 Enmity-5
C: INT+10 "Elemental Magic Skill"+15 "Dark Magic Skill"+15
D: MAB+15 MACC+15 Conserve MP+6

Khon
Sokolski Mantle
[Back] All Races

DEF:15 HP+70 Accuracy+15 Ranged Accuracy+15 Enmity-3 "Subtle Blow"+5
LV 99 WAR MNK RDM THF PLD DRK BST BRD RNG SAM NIN DRG BLU COR DNC RUN

N/A
Khun
Carmine Greaves
[Feet] All Races

DEF:78 HP+15 STR+14 DEX+16 VIT+15 AGI+33 MND+11 CHR+28 Evasion+52 Magic Evasion+80 "Magic Def. Bonus"+3 Haste+4% "Double Attack"+2% "Fast Cast"+5% "Store TP"+5 "Conserve MP"+5
LV 99 RDM PLD DRK RNG DRG BLU COR RUN

A: HP+60 STR+10 INT+10
B: MND+15 DEX+10 ACC+10
C: MP+60 INT+10 MND+10
D: HP+80 MP+80 PDT-4%

Khun
Argosy Mufflers
[Hands] All Races

DEF:101 HP+34 STR+15 DEX+35 Accuracy+15 Attack+20 Evasion-8 Haste+4% "Store TP"+4
LV 99 WAR DRK BST

A: STR+10 DEX+10 ATK+15
B: HP+50 ATK+15 ACC+10
C: HP+50 STR+12 PDT-3%
D:

Khun
Grunfeld Rope
[Waist] All Races

DEF:9 STR+5 DEX+5 Accuracy+10 Attack+20 "Double Attack"+2%
LV 99 WAR MNK WHM BLM RDM THF PLD DRK BST BRD RNG SAM NIN DRG SMN BLU COR PUP DNC SCH GEO RUN

N/A
Wasserspeir
Ryuo Tekko
[Hands] All Races

DEF:105 HP+29 STR+12 DEX+38 VIT+30 AGI+12 INT+12 MND+30 CHR+17 Accuracy+17 Ranged Accuracy+17 Evasion+24 Magic Evasion+32 "Magic Def. Bonus"+1 Haste+4% Critical hit rate +4% Critical hit damage +4%
LV 99 MNK SAM NIN PUP

A: STR+10 DEX+10 ACC+15
B: HP+50 ATK+15 ACC+15
C: HP+50 Store TP+4 Subtle Blow+7
D: DEX+10 ACC+20 DA+3

Wasserspeir
Porous Rope
[Waist] All Races

DEF:8 HP+20 MP+20 INT+7 MND+7 CHR+7 Magic Accuracy+5 "Resist Petrify"+15
LV 99 WHM BLM RDM BRD SMN BLU PUP SCH GEO

N/A
Wasserspeir
Quarrel Mantle
[Back] All Races

DEF:14 AGI+4 Ranged Accuracy+18 Enmity-3 "Recycle"+10
LV 99 THF BST RNG DNC RUN

N/A
Emputa
Kaykaus Cuffs
[Hands] All Races

DEF:85 HP+20 MP+20 STR+6 DEX+25 VIT+25 AGI+5 INT+19 MND+35 CHR+16 Magic Accuracy+20 Evasion+22 Magic Evasion+37 "Magic Def. Bonus"+3 Enfeebling magic skill +15 Haste+3% Enmity-5 "Cure" potency +10%
LV 99 WHM RDM BRD SCH

A: MP+60 MND+10 MACC+15
B: MP+60 "Cure" Spellcasting Time-5% Enmity-5
C: MP+60 "Cure" Spellcasting Time-5% Spell Interruption Rate-10%
D: MP+60 Conserve MP+6 Fast Cast+3

Emputa
Fortified Ring
[Finger] All Races

MP+50 Accuracy+5 Enemy critical hit rate -7% Magic damage taken -5%
LV 99 WAR MNK WHM BLM RDM THF PLD DRK BST BRD RNG SAM NIN DRG SMN BLU COR PUP DNC SCH GEO RUN

N/A
Peirithoos
Adhemar Wristbands
[Hands] All Races

DEF:92 HP+22 STR+15 DEX+43 VIT+29 AGI+7 INT+12 MND+30 CHR+17 Accuracy+15 Ranged Accuracy+15 Evasion+36 Magic Evasion+43 "Magic Def. Bonus"+2 Haste+5% "Triple Attack"+2% "Store TP"+6
LV 99 MNK THF RNG NIN BLU COR DNC RUN

A: DEX+10 AGI+10 ACC+15
B: STR+10 DEX+10 ATK+15
C: AGI+10 RATK+15 RACC+15
D: ATK+15 ACC+15 Subtle Blow+7

Peirithoos
Kaykaus Boots
[Feet] All Races

DEF:67 HP+11 MP+20 STR+10 DEX+11 VIT+10 AGI+33 INT+17 MND+19 CHR+34 Evasion+55 Magic Evasion+107 "Magic Def. Bonus"+6 Enhancing magic skill +20 Haste+3% Enmity-5 "Conserve MP"+6 "Cure" potency +10%
LV 99 WHM RDM BRD SCH

A: MP+60 MND+10 MACC+15
B: MP+60 "Cure" Spellcasting Time-5% Enmity-5
C: MP+60 "Cure" Spellcasting Time-5% Spell Interruption Rate-10%
D: MACC+15 "Cure Potency"+5 Fast Cast+3

Peirithoos
Hydrocera
[Ammo] All Races

MP+20 MND+3 Magic Accuracy+6
LV 99 WAR MNK WHM BLM RDM THF PLD DRK BST BRD RNG SAM NIN DRG SMN BLU COR PUP DNC SCH GEO RUN

N/A
Peirithoos
Ishvara Earring
[Ear] All Races

Weapon skill damage +2%
LV 99 WAR MNK WHM BLM RDM THF PLD DRK BST BRD RNG SAM NIN DRG SMN BLU COR PUP DNC SCH GEO RUN

N/A
Peirithoos
Porous Rope
[Waist] All Races

DEF:8 HP+20 MP+20 INT+7 MND+7 CHR+7 Magic Accuracy+5 "Resist Petrify"+15
LV 99 WHM BLM RDM BRD SMN BLU PUP SCH GEO

N/A
Panna Cotta (Escha)
Rao Kote
[Hands] All Races

DEF:92 STR+14 DEX+34 VIT+29 AGI+11 INT+8 MND+32 CHR+15 Attack+23 Evasion+22 Magic Evasion+26 "Magic Def. Bonus"+1 Haste+5% "Counter"+4 "Regen"+1
LV 99 MNK SAM NIN PUP

A: ATK+10 ACC+10 EVA+15
B: STR+10 DEX+10 ATK+15
C: Pet: HP+100 ACC+15 DT-3%
D:

Panna Cotta (Escha)
Souveran Schuhs
[Feet] All Races

DEF:96 HP+72 MP+14 STR+19 DEX+12 VIT+20 AGI+28 MND+7 CHR+20 Evasion+44 Magic Evasion+86 "Magic Def. Bonus"+2 Haste+3% "Phalanx"+3 Chance of successful block +2 Physical damage taken -4%
LV 99 WAR PLD

A: ATK+10 ACC+10 Enmity+4
B: HP+50 STR+10 ACC+10
C: HP+80 Enmity+7 Potency of "Cure" effect received+10%
D:

Panna Cotta (Escha)
Balarama Grip
[Sub] All Races

HP+50 Great Sword skill +10 Parrying skill +7 Enmity+3
LV 99 WAR MNK WHM BLM RDM THF PLD DRK BST BRD RNG SAM NIN DRG SMN BLU COR PUP DNC SCH GEO RUN

N/A
Panna Cotta (Escha)
Vertigo Ring
[Finger] All Races

INT+5 MND+5 Magic Accuracy+5 Physical damage taken -2%
LV 99 WAR MNK WHM BLM RDM THF PLD DRK BST BRD RNG SAM NIN DRG SMN BLU COR PUP DNC SCH GEO RUN

N/A
Tenodera
Carmine Finger Gauntlets
[Hands] All Races

DEF:98 HP+27 STR+10 DEX+33 VIT+32 AGI+11 INT+14 MND+32 CHR+23 Ranged Attack+15 Evasion+22 Magic Evasion+43 "Magic Atk. Bonus"+15 "Magic Def. Bonus"+2 Haste+5% "Rapid Shot"+10 "Snapshot"+7
LV 99 RDM PLD DRK RNG DRG BLU COR RUN

A: HP+60 STR+10 INT+10
B: MND+15 DEX+10 ACC+10
C: MP+60 INT+10 MND+10
D: RATK+15 MAB+10 Store TP+5

Tenodera
Lustratio Leggings
[Feet] All Races

DEF:80 HP+11 STR+29 DEX+30 "Slow"+5%
LV 99 WAR THF PLD DRK BST BRD DRG DNC RUN

A: STR+5 ATK+15 DA+2
B: DEX+5 ACC+15 Criti Hit Rate+2
C: ATK+8 ACC+8 Store TP+4
D: HP+50 STR+10 DEX+10

Tenodera
Sulla Ring
[Waist] All Races

Attack+30 Enmity+3
LV 99 WAR RDM THF PLD DRK BST BRD RNG SAM NIN DRG BLU COR DNC RUN

N/A
Sava Savanovic
Ryou Sune-Ate
[Feet] All Races

DEF:87 HP+18 STR+21 DEX+19 VIT+11 AGI+38 MND+5 CHR+19 Attack+15 Ranged Attack+15 Evasion+55 Magic Evasion+80 "Magic Def. Bonus"+2 Haste+3% "Zanshin"+4 Zanshin: Occasionally attacks twice +10%
LV 99 MNK SAM NIN PUP

A: STR+10 DEX+10 ACC+15
B: HP+50 ATK+15 ACC+15
C: HP+50 Store TP+4 Subtle Blow+7
D:

Sava Savanovic
Adhemar Gamashes
[Feet] All Races

DEF:74 HP+11 STR+15 DEX+23 VIT+8 AGI+42 MND+11 CHR+25 Attack+18 Ranged Attack+18 Evasion+74 Magic Evasion+75 "Magic Atk. Bonus"+25 "Magic Def. Bonus"+5 Haste+4% "True Shot"+1 Critical hit rate +3%
LV 99 MNK THF RNG NIN BLU COR DNC RUN

A: DEX+10 AGI+10 ACC+15
B: STR+10 DEX+10 ATK+15
C: AGI+10 RATK+15 RACC+15
D: HP+50 Store TP+6 Snapshot+8

Sava Savanovic
Nodens Gorget
[Neck] All Races

HP+25 MP+25 "Cure" potency +5% "Stoneskin"+30
LV 99 WHM BLM RDM BRD SMN SCH GEO

N/A
Sava Savanovic
Evanescence Ring
[Finger] All Races

Dark magic skill +10 Spell interruption rate down 5% "Drain" and "Aspir" potency +10
LV 99 WAR MNK WHM BLM RDM THF PLD DRK BST BRD RNG SAM NIN DRG SMN BLU COR PUP DNC SCH GEO RUN

N/A