A set of armor intended for several cloth wearers, this armor set gives modest defense and good evasion bonuses, but only on Earthsday. It takes its red color from Diremites' Bloodthread, but is otherwise composed largely of linen components. The high quality version of this set is the Rubious Tunic Set.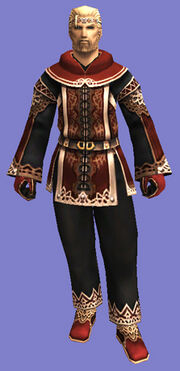 Number of Pieces: 5

Cost to store: 400 gil

Set Summary
Definition
Garish is an adjective for something that is marked by strident color or excessive ornamentation; gaudy.
Community content is available under
CC-BY-SA
unless otherwise noted.