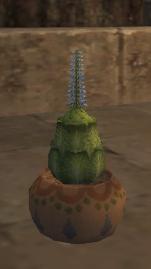 Grasses and grass-like plants are among the most versatile of life forms, thriving on every continent in Vana'diel. They have existed for millions of years, providing fodder for wild, as well as domesticated animals. Grasses have adapted to conditions in lush rain forests, dry deserts, and cold mountain steppes.

Many members of the Vana'diel Chocobo Society (VCS), Chocobo breeders and racers have been known to grow their own fresh worms and Wildgrasss using the Wildgrass Seeds from the Near East.
Wildgrass seeds' growing time is approximately six Earth days, depending on pot and whether a crystal is used. The Vanadiel moon cycle is approximately three Earth days.
Following are the possible results when planting Wildgrass Seeds. Results will vary depending on many variables, the following chart will show the commonly accepted "recipes". For now, the list is by no means complete, so please add any results you find yourself.

Community content is available under
CC-BY-SA
unless otherwise noted.