Raise a Floppa - The Loop
Play Sound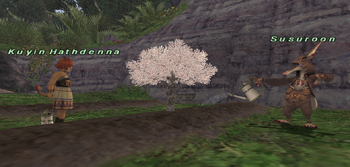 The Garden Furrow is available in your Mog Garden after completing Full Fields. After a set time, seeds planted in a Furrow will yield items.
Rank upgrade key item books can be purchased from Zenicca for bayld, or from Skipper Moogle for gil. Upgrade availability depends on the total number of harvests. Dev Post
You gain a second Furrow upon reaching rank 3.
You gain a third Furrow upon reaching rank 5.
It requires 255 harvests to go from rank 6 to rank 7.
Some fertilizers reduce harvest time.
Seeds
Fertilizers
Fertilizers that reduce harvest time affect total harvest time, not remaining time. For example, if Grove Humus is used on Grain Seeds (normally 6 hours harvest time) with 3 hours remaining, the remaining time drops to 1 hour 30 minutes, not 2 hours 15 minutes.
Some fertilizers yield additional items, listed in the next section. Each fertilizer will yield items based on the seeds with which it is used. E.g., using humus, you can get gold ore from cactus stems, but not from herb seeds.
Yields
Any item slot may yield a crystal instead.
Instructing Susuroon to "grow me something good" will cause rarer items to drop more frequently.
Every harvest will yield items in the following order:
1) 1-4 items from Yield list, depending on seed.
2) Bonus yield from Kuyin Hathdenna.

Instructing Kuyin Hathdenna to "harvest a lot of crops" will yield 1 additional item.
Instructing Kuyin Hathdenna to "look for seeds" will yield 1-3 seeds of the same type you planted. This will never yield crystals.

3) Bonus yield from Susuroon.

Instructing Susuroon to "harvest a lot of crops" will yield 1 additional item.

4) Bonus yield to seed list from fertilizer.
5) Bonus yield from special event (specifically Arborscent Seeds creating Pictlogica boards during the crossover event).
6) Additional yield from fertilizer list.