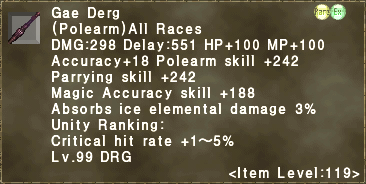 Statistics
Damage Per Second: 32.45
TP Per Hit: 146
Other Uses
Unity Concord Upgrade:
Gae Derg
upgrades to

Gae Derg +1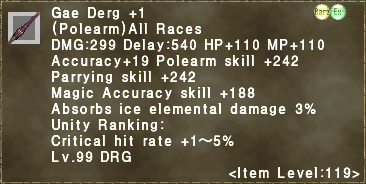 with 50x

Coca's Wing
at a
Unity Concord NPC
for 10,000
Unity Accolades
.
How to Obtain
Unity Concord
Notes
Added
See Also
None - All pages Gae Derg appears on are already linked to.
Nomenclature
Gae Derg: Gáe Dearg (sp.) yellow spear was one of two spears wielded (not simultaneously) by the Irish legend Diarmuid Ua Duibhne - this one for matters of life and death. (Wikipedia).
Community content is available under
CC-BY-SA
unless otherwise noted.