m

m (Removed info to Shining Stars page to prevent duplication)

 

(2 intermediate revisions by one other user not shown)
Line 1:
Line 1:
 

{{Infobox Key Item

 

{{Infobox Key Item

 
⚫
−

| name =

 
 
+

| description =Its acronym a shorthand form of<br>"Garden Positioning System", this<br>mineral device guides pioneers via<br>moogle magic to their Mog Gardens.<br>It glows with the iridescence of an<br>additional star for each day (Earth<br>time) the Green Thumb Moogle lays<br>his fuzzy paws upon it. As to what<br>significance the stars have, that<br>remains a moogle mystery.

⚫
 
 
⚫
−

| description =Its acronym a shorthand form of<br>

 
 
⚫
−

"Garden Positioning System", this<br>

 
 
+

| notes = See [[Shining Stars]] for full details on their significance.

−

mineral device guides pioneers via<br>

 
 
+

| sub-category = Mog Garden

−

moogle magic to their Mog Gardens.<br>

 
−

It glows with the iridescence of an<br>

 
−

additional star for each day (Earth<br>

 
−

time) the Green Thumb Moogle lays<br>

 
−

his fuzzy paws upon it. As to what<br>

 
−

significance the stars have, that<br>

 
−

remains a moogle mystery.

 
⚫
 
⚫
 
−

| notes = Each Earth day that you enter your [[Mog Garden]], you receive a message about a "single star" appearing on your GPS crystal. These can be exchanged for the items/services below.

 
−

| is-perm = Y

 
 

}}

 

}}

−

{| border="0" width="100%" cellpadding="3"

 
−

!style="background:#ffdead;"|Item/Service

 
−

!style="background:#ffdead;"|Stars

 
−

|- style="background:#e3e6ff"

 
−

|Align="Center"|Trip to San d'Oria

 
−

|Align="Center"|1

 
−

|- style="background:#e3e6ff"

 
−

|Align="Center"|Trip to Bastok

 
−

|Align="Center"|1

 
−

|- style="background:#e3e6ff"

 
−

|Align="Center"|Trip to Windurst

 
−

|Align="Center"|1

 
−

|- style="background:#e3e6ff"

 
−

|Align="Center"|{{KeyItem}}[[Gil repository]]

 
−

|Align="Center"|5

 
−

|- style="background:#e3e6ff"

 
−

|Align="Center"|One week of work from [[Kuyin Hathdenna]]

 
−

|Align="Center"|5 (must have met Kuyin for this option to be available)

 
−

|- style="background:#e3e6ff"

 
−

|Align="Center"|One week of work from [[Susuroon]]

 
−

|Align="Center"|5 (must have met Susuroon for this option to be available)

 
−

|- style="background:#e3e6ff"

 
−

|Align="Center"|One week of work from [[Yeestog]]

 
−

|Align="Center"|5 (must have met Yeestog for this option to be available)

 
−

|- style="background:#e3e6ff"

 
−

|Align="Center"|[[Coalition Humus]]

 
−

|Align="Center"|10

 
−

|- style="background:#e3e6ff"

 
−

|Align="Center"|[[Super Baitball]]

 
−

|Align="Center"|10

 
−

|- style="background:#e3e6ff"

 
−

|Align="Center"|[[Coalition Chum]]

 
−

|Align="Center"|10

 
−

|- style="background:#e3e6ff"

 
−

|Align="Center"|{{KeyItem}}[[Crab caller]]

 
−

|Align="Center"|15

 
−

|- style="background:#e3e6ff"

 
−

|Align="Center"|[[Coalition Fertilizer]]

 
−

|Align="Center"|15

 
−

|- style="background:#e3e6ff"

 
−

|Align="Center"|[[Coalition Serum]]

 
−

|Align="Center"|15

 
−

|- style="background:#e3e6ff"

 
−

|Align="Center"|[[Overalls]]

 
−

|Align="Center"|30

 
−

|}

 
---
Latest revision as of 19:46, 10 February 2019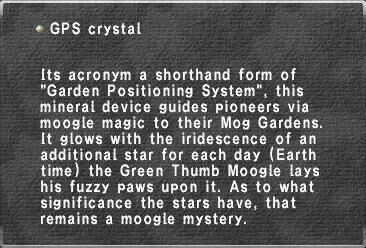 GPS crystal
Description:
Its acronym a shorthand form of
"Garden Positioning System", this
mineral device guides pioneers via
moogle magic to their Mog Gardens.
It glows with the iridescence of an
additional star for each day (Earth
time) the Green Thumb Moogle lays
his fuzzy paws upon it. As to what
significance the stars have, that
remains a moogle mystery.