Zone
Level
Drops
Steal
Spawns
Notes
West Ronfaure
10 - 15
1
L, S
~320 HP
??? MP
Nyzul Isle

(Floors 41 - 59)

1
L, S
??? HP
??? MP

A = Aggressive; NA = Non-Aggresive; L = Links; S = Detects by Sight; H = Detects by Sound;
HP = Detects Low HP; M = Detects Magic; Sc = Follows by Scent; T(S) = True-sight; T(H) = True-hearing
JA = Detects job abilities; WS = Detects weaponskills; Z(D) = Asleep in Daytime; Z(N) = Asleep at Nighttime; A(R) = Aggressive to Reive participants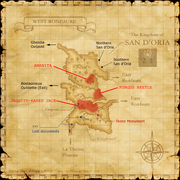 Notes:
Lottery Spawn from a Scarab Beetle spawned in (I-8) and (I-9).
Respawn Time is approximately 15 minutes to 3 hours (Earth time).
Respawn Time on placeholder is approximately 5 minutes (Earth time).
If you are using Widescan, there are 3 Scarab Beetles in area (H-8); the second Scarab Beetle in the group is the placeholder for the Fungus Beetle.
Easily soloed by most jobs level 10 and up.
highly resistant if not immune to sleep
Used to be named Goliath Beetle, but changed due to normal beetles with the same name in other zones.
Nyzul Isle: The Armoury Crate it leaves behind contains a ??? Shield, which may rarely appraise into a Clipeus.
Bomb and Placeholder share a spawn point
Community content is available under
CC-BY-SA
unless otherwise noted.