Roblox: DeepWoken - The Loop
Play Sound
Family: Manticore
Crystal: Wind
Weak to: Water

Notorious Monster
Zone
Level
Drops
Steal
Spawns
Notes
Cape Teriggan
80
1
A, L, S, Sc

??? HP


Nyzul Isle

Floors 1 - 19

1
A, S, Sc

??? HP


A = Aggressive; NA = Non-Aggresive; L = Links; S = Detects by Sight; H = Detects by Sound;
HP = Detects Low HP; M = Detects Magic; Sc = Follows by Scent; T(S) = True-sight; T(H) = True-hearing
JA = Detects job abilities; WS = Detects weaponskills; Z(D) = Asleep in Daytime; Z(N) = Asleep at Nighttime; A(R) = Aggressive to Reive participants
Evolith
Notes: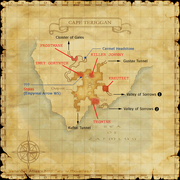 Lottery Spawn from the Greater Manticore in front of the Cloister of Gales every 1-6 hrs.
Placeholder is random any of the Manticores in the area can lock this NM up for hours.
Frostmane may spawn anywhere within the area around the cloister not just in front of it.
Killable by: 6 characters level 70.
Killable by: 2 characters level 75 and some solo at level 75 or higher.
Cannot be slept, but can be bound for a short period of time.
Links with other Manticores by sight.

(see testimonials)
Historical Background
Frostmane is apparently based on Hrímfaxi from Norse mythology. Hrimfaxi is the steed of Nott, goddess who is the personification of the night. Hrimfaxi is a horse who pulls her chariot around. It is he who covers the grass with dew or frost early in the morning. Hrimfaxi is Old Norse for "frost-mane".