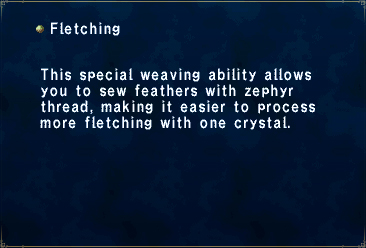 Fletching
Description:
"This special weaving ability allows you to sew feathers with zephyr thread, making it easier to process more fletching with one crystal."
Obtained:
Purchased from Clothcraft Guild.
Notes:
A
Clothcrafting
key item which enables you to make multiple fletchings with one crystal. Essentially like spinning, it enables you to craft 3 times the usual amount using a zephyr thread and one crystal .
Needed for Recipes
Purchased from
Community content is available under
CC-BY-SA
unless otherwise noted.