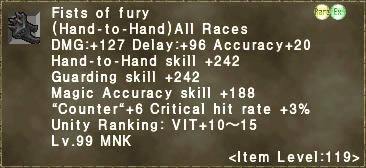 Statistics
Damage Per Second: +28.12*
TP Per Hit: +9*
*Base delay for Hand-to-Hand is assumed to be 480.
Other Uses
Unity Concord Upgrade:
Fists of Fury
upgrades to
Fists of Fury +1


with 50x

Ethereal Incense
at a
Unity Concord NPC
for 10,000
Unity Accolades
.
How to Obtain
Cannot be auctioned, traded, or bazaared, but can be delivered to a character on the same account.


Can be obtained as a random reward from the Gobbie Mystery Box Special Dial and similar sources.
Unity Concord Wanted Battles
Background Info
Fists of Fury was Bruce Lee's 2nd film in which he starred, featuring realistic martial arts action, and became a box-office hit.