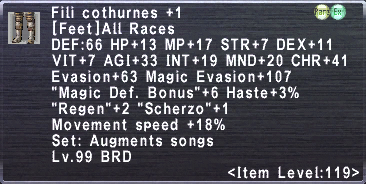 Statistics
Set: Augments songs
Enhancing songs add an attribute bonus that corresponds to the element of the song (i.e. Thunder-based songs add +DEX). The attribute bonus begins at +1 for 2 pieces, increases by 1 for each additional piece, up to +5 for the whole set. For Dark-based songs, there is a bonus of +10 MP for 2 pieces, and increases by 10 for each additional piece.
Can be stored with a Porter Moogle using Storage Slip 21.
Other Uses
How to Obtain
Monisette rewards players with this in exchange for:
The reforged piece will be ready the next game day.
Community content is available under
CC-BY-SA
unless otherwise noted.