The Warrior's Artifact Armor exemplifies the gladiatorial showmanship of the profession. Constructed of darksteel and hardened leather, the design emphasizes freedom of movement and flashy appearance over practical defense. As such, while it is not always the preferred armor to charge into combat with, it is nonetheless well-suited to the versatility of its wearer, allowing for lightning-fast blows in quick succession, improved use of the shield for defensive purposes, and its flamboyant design baits foes into rushing right into the Warrior's waiting blades. Also see the HQ version, Fighter's Armor +1 Set.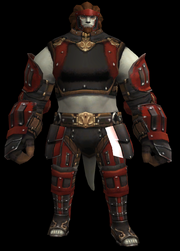 Number of Pieces: 5  
Storage Options:
Armor Depository 500 gil for set on pick up.
Will receive Fighter's armor claim slip upon trading whole set to npc.

Porter Moogle with Moogle Storage Slip 04
Can store single pieces.
Level
Armor Piece
56
Fighter's Mask


[Head] All Races
DEF: 24 HP +15 DEX +3 INT +1 Enmity +1
Lv. 56 WAR


60
Fighter's Lorica


[Body] All Races
DEF: 47 HP +20 VIT +5 +10
Enmity +8
Lv. 60 WAR


54
Fighter's Mufflers


[Hands] All Races
DEF: 16 HP +13 STR +4
Shield Skill +10 Enmity +3
Lv. 54 WAR


58
Fighter's Cuisses


[Legs] All Races
DEF: 34 HP +15 Accuracy +3 Evasion +3
Enmity +2
Lv. 58 WAR


52
Fighter's Calligae


[Feet] All Races
DEF: 14 HP +12 AGI +3
Enhances "Double Attack" Effect
Enmity +1
Lv. 52 WAR

Note:
Set Summary