Family: Avatars
Weak to: Light

Notorious Monster
Zone
Level
Spawns
Notes
Full Moon Fountain
80 - 82
1
A, T(H), M
9,279~9,834 HP
??? MP
Full Moon Fountain
113-121
1
A, T(H), M
??? HP
??? MP

A = Aggressive; NA = Non-Aggresive; L = Links; S = Detects by Sight; H = Detects by Sound;
HP = Detects Low HP; M = Detects Magic; Sc = Follows by Scent; T(S) = True-sight; T(H) = True-hearing
JA = Detects job abilities; WS = Detects weaponskills; Z(D) = Asleep in Daytime; Z(N) = Asleep at Nighttime; A(R) = Aggressive to Reive participants
Notes:
Spawned in battlefield event for the quest: The Moonlit Path.
Fight at New Moon on Lightsday. Howling Moon can deal over 2000 damage if not. Soloable as 75 SAM/DNC.
Very high magic detection range.
Uses his Astral Flow pact, Howling Moon, at approximately 50% of health, and sometimes again at 30%. Fenrir Prime's version acts more like the ultimate ability of Diabolos, dealing damage based on a percentage of the target's remaining HP.
Otherwise uses his standard Blood Pacts, e.g. Crescent Fang, Eclipse Bite, Lunar Roar, Moonlit Charge, etc.
Howling Moon and Lunar Roar have 30' AoE range.
Lunar Roar can remove up to 10 beneficial status effects.
Aggro may affect whole party, including those out of aggro range.
Will regen quickly if unclaimed. Can regen all HP in under 3 minutes with no hate.
Historical Background
In Norse mythology, Fenrir is a monstrous wolf. For complete background see: Fenrir
Video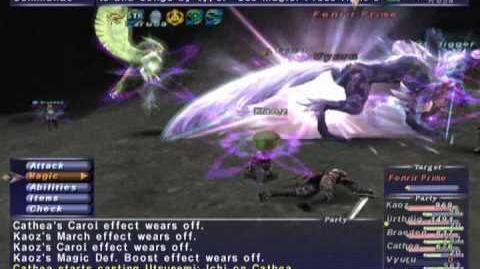 Community content is available under
CC-BY-SA
unless otherwise noted.