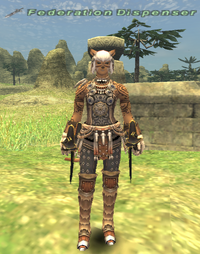 Federation Dispenser
Notes
Appears during an offensive campaign against Beastman territories. Up to 3 dispensers may be present at a time.
Distributes temporary items to players allied with Windurst in the battle.
Upon the depletion of their stock, these distributors will temporarily return to headquarters in order to replenish their stores.
They will take defensive action against aggressors, but during that time they will be unable to dispense items. Should they become incapacitated in the course of battle, a replacement will be dispatched after a certain amount of time has elapsed.
Item availability and quantity is directly influenced by each nation's skill and production levels.
Community content is available under
CC-BY-SA
unless otherwise noted.