Job: Monk
Family: Trolls
Crystal: Fire
Weak to: Water

Notorious Monster
Zone
Level
Drops
Steal
Spawns

Notes

1

A, L, T(S), Sc

A = Aggressive; NA = Non-Aggresive; L = Links; S = Detects by Sight; H = Detects by Sound;
HP = Detects Low HP; M = Detects Magic; Sc = Follows by Scent; T(S) = True-sight; T(H) = True-hearing
JA = Detects job abilities; WS = Detects weaponskills; Z(D) = Asleep in Daytime; Z(N) = Asleep at Nighttime; A(R) = Aggressive to Reive participants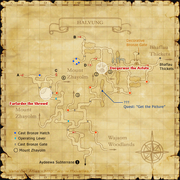 Will use Hundred Fists multiple times during the fight, along with all other Troll special attacks.
While Hundred Fists is active, all of his attacks gain the ability to petrify. This petrification is a partial hate wipe, which will cause him to switch to a new target after 1-2 swings. This tends to cause him to rapidly switch between targets as he hits them, therefore all party members should be prepared to take damage.
Immune to Bind, Sleep, and Stun. Shadowbind may work.
Killable by a well organized 6 man group.
Defeating him lowers the Troll Mercenaries' military force by 1.
Community content is available under
CC-BY-SA
unless otherwise noted.