Line 53:
Line 53:
 
 
 

'''Notes'''

 

'''Notes'''

 
+

*Has ~22,500 HP.

 

*Incinerate: Does 800 damage to all levels and all jobs, but at low HP it does 100-400 damage.

 

*Incinerate: Does 800 damage to all levels and all jobs, but at low HP it does 100-400 damage.

 

*Hanzo Tekko has a high drop rate.

 

*Hanzo Tekko has a high drop rate.

Line 58:
Line 59:
 

*Solo by RDM/NIN using Joyeuse and dagger with barfire on during the fight.

 

*Solo by RDM/NIN using Joyeuse and dagger with barfire on during the fight.

 

*Hand-to-hand weapons also do damage to this NM.

 

*Hand-to-hand weapons also do damage to this NM.

 
+

*Susceptible to [[Gravity]], [[Bind]], [[Paralyze]], and [[Slow]].

 
+

*Immune to [[Sleep]].

 
 
 

[[Category:Bestiary]][[Category:Notorious Monsters]][[Category:Crawlers]]

 

[[Category:Bestiary]][[Category:Notorious Monsters]][[Category:Crawlers]]
---
Revision as of 08:05, 11 February 2007
Job:
Family: Crawler
Crystal: Fire
Weak to: Dark, Light, Water

Notorious Monster


Zone

Level

Drops

Steal

Spawns

Notes

80

A, L, H, Sc

A = Aggressive; L = Links; S = Detects by Sight; H = Detects by Sound; HP = Detects Low HP; M = Detects Magic; Sc = Follows by Scent; T(S) = True-sight; T(H) = True-sound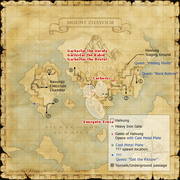 Notes
Has ~22,500 HP.
Incinerate: Does 800 damage to all levels and all jobs, but at low HP it does 100-400 damage.
Hanzo Tekko has a high drop rate.
Duo-able by a RDM and THF. Only piercing weapons can damage it. (Daggers and Joyeuse recommended.)
Solo by RDM/NIN using Joyeuse and dagger with barfire on during the fight.
Hand-to-hand weapons also do damage to this NM.
Immune to Sleep.
Community content is available under
CC-BY-SA
unless otherwise noted.