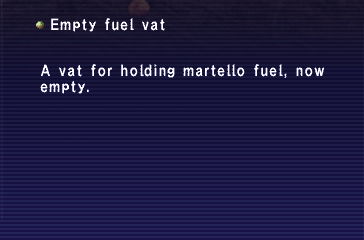 Empty Fuel Vat
Description:
A vat for holding martello fuel, now
empty.
Obtained:
Obtained after refueling a Martello in a Refuel and Replenish quest; must then be returned to the quest starter.
Notes:
Vanishes from temporary key items if the player leaves the zone, is disconnected, or logs out.
Community content is available under
CC-BY-SA
unless otherwise noted.