Statistics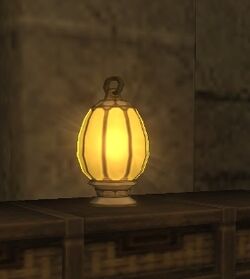 Furnishing:

A charming, egg-squisitely designed
lantern that will egg-liven the decor
of any room!
<

STG: 1>
Other Uses
Resale Price: Cannot be sold to NPCs.
Egg Buffet Exchange: Trade an Egg Locker, Egg Table, Egg Stool, and an Egg Lantern to your Mog House Moogle to receive an Egg Buffet.
How to Obtain
Special Events
Mog House