Statistics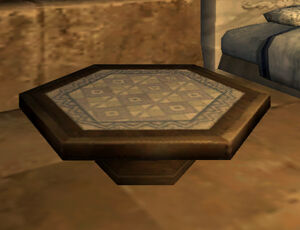 Ecru desk
Furnishing:
A simple low-rise desk in
the Windurstian style, covered with a
simple yet tasteful ecru desk cloth.
<
STG: 1>
Other Uses
Synthesis Recipes

clothcraft

(

64

/75

),

Alchemy (

7

/18

)
Yield: Ecru Desk x 1
Water Crystal
Used in Recipes
Desynthesis Recipe
None
Obtained From Desynthesis
How to Obtain
Only obtainable through synthesis.
Historical Background
Ecru describes the shade greyish-pale yellow or a light greyish-yellowish brown. It is often used to describe such fabrics as silk and linen in their unbleached state. Ecru comes from the French word écru, which means literally 'raw' or 'unbleached'.
Community content is available under
CC-BY-SA
unless otherwise noted.