Fire Emblem Warriors: Three Hopes - The Loop
Play Sound
Table of Contents

Zone Information

Description

Connections

Entered via Trail Markings at Xarcabard (J-9)
Treasure
Monsters Found Here
Note: All monsters link. Regular Kindred monsters may drop up to two relic armors.
Notes:
The Dark Kindred use their normal abilities, plus Condemnation and Quadrastrike.
Kindred run twice as fast as players, running at flee speed.
The Kindred NMs in Dynamis - Xarcabard can only drop the relic armor of their respective job.
However, any regular Kindred Demon can drop any relic armor at any time, and it is possible for more than one relic armor to drop from one regular monster.
That said, it is advised to focus more on regular Kindred instead of the NMs if the goal of the run is to farm relic armor and not to attempt Animated Weapons or the Dynamis Lord.
Notes:
The Animated Weapons have the appearance of the final Relic Weapons.
Animated Weapons no longer warp away from players during battle.
Dragons
Notes:
Dynamis Lord
Notes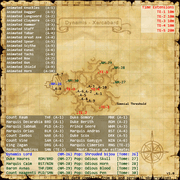 Dynamis
Original Areas
Dreamworld Areas
Bosses
Time Extension Monsters
Rewards
Other