Raise a Floppa - The Loop
Play Sound
Table of Contents

Zone Information

Description

Connections

Entered via Heiroglyphics at Valkurm Dunes (G-7)/(H-7) Behind Outpost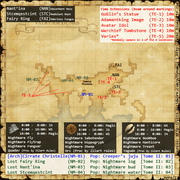 Treasure
Monsters Found Here
Goblins

The low level goblins are located just west of the oasis in an elongated area, between the Nightmare Goobues and the Nightmare Treants.
The High level goblins are located in a circular area near where Valkurm Emperor spawns in normal Valkurm Dunes.

Orcs

The low level Orcs are located in an elongated area from the outpost west to the oasis.
The High level orcs are located south-west of the Outpost, north-west of the Selbina entrance.

Quadav

The low level Quadav are located south of the low level Orcs, in the in the eastern half of Siren Sands.
The high level Quadav are located north of the high level Yagudo, near the secret beach.

Yagudo

The low level Yagudo are located in the wooded area toward the zone to Konschtat Highlands.
The high level Yagudo are located just south of the high level Quadavs on the way to the secret beach.
Nightmare Monsters
Notorious Monsters
Notes
Per the December 10, 2015 update: "The drop rate of spoils from Dynamis-Buburimu, Dynamis-Qufim, and Dynamis-Valkurum have been adjusted. The quality and quantity of damaged relic equipment earned from defeating regular monsters has been balanced so that equipment for all jobs and slots has an equal chance of dropping."
Dynamis
Original Areas
Dreamworld Areas
Bosses
Time Extension Monsters
Rewards
Other