Table of Contents

Zone Information

Description

Connections

Entered via Heiroglyphics at Buburimu Peninsula (I-9)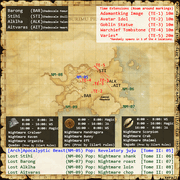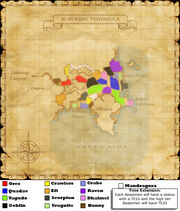 Treasure
Monsters Found Here
Nightmare Monsters
Stagger Type
Name
Accessories
Currency
MA: 0:00- 8:00
JA: 8:00-16:00
WS:16:00- 0:00
Nightmare Bunny
PUP, BLM, RNG, WAR
O. Bronzepiece
Nightmare Eft
PUP, BLM, RNG, WAR
O. Bronzepiece
Nightmare Mandragora
PUP, BLM, RNG, WAR
O. Bronzepiece
JA: 0:00- 8:00
WS: 8:00-16:00
MA:16:00- 0:00
Nightmare Crawler
DRK, BLU, RDM, NIN
1 Byne Bill
Nightmare Raven
DRK, BLU, RDM, NIN
1 Byne Bill
Nightmare Uragnite
DRK, BLU, RDM, NIN
1 Byne Bill
WS: 0:00- 8:00
MA: 8:00-16:00
JA:16:00- 0:00
Nightmare Crab
PLD, BRD, DRG, MNK
T. Whiteshell
Nightmare Dhalmel
PLD, BRD, DRG, MNK
T. Whiteshell
Nightmare Scorpion
PLD, BRD, DRG, MNK
T. Whiteshell
Notorious Monsters
Notes
Per the December 10, 2015 update: "The drop rate of spoils from Dynamis-Buburimu, Dynamis-Qufim, and Dynamis-Valkurum have been adjusted. The quality and quantity of damaged relic equipment earned from defeating regular monsters has been balanced so that equipment for all jobs and slots has an equal chance of dropping."
Community content is available under
CC-BY-SA
unless otherwise noted.