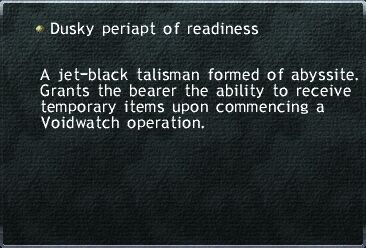 Dusky Periapt of Readiness
Description:
A jet-black talisman formed of abyssite. Grants the bearer the ability to receive temporary items upon commencing a Voidwatch operation.
Notes:
Grants the temporary items Hi-Potion, Grape Juice, Shepherd's Drink, Carnal Incense, Daedalus Wing, and Catholicon +1 at the start of a Voidwatch battle.
Possession of both Dusky and Vivid Periapt of Readiness supplies the player with Lucid Potion II, Lucid Ether II, Dusty Reraise, Dusty Wing, Healing Powder, Mana Powder, Vicar's Drink, Healing Salve I, Fanatic's Drink, and Fool's Drink at the start of a Voidwatch battle instead of the above.
These temporary items are granted not only at the start of battle but also multiple times during the fight when certain conditions are met with regard to weakness triggers.
Community content is available under
CC-BY-SA
unless otherwise noted.