Job: Ranger
Family: Trolls
Crystal: Fire
Weak to: Water

Notorious Monster
Zone

Level

Drops

Steal

Spawns

Notes

80

1

A, L, T(S), Sc

A = Aggressive; NA = Non-Aggresive; L = Links; S = Detects by Sight; H = Detects by Sound;
HP = Detects Low HP; M = Detects Magic; Sc = Follows by Scent; T(S) = True-sight; T(H) = True-hearing
JA = Detects job abilities; WS = Detects weaponskills; Z(D) = Asleep in Daytime; Z(N) = Asleep at Nighttime; A(R) = Aggressive to Reive participants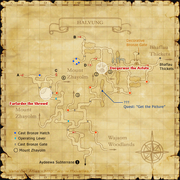 Notes:
Timed spawn (approx 3 days) around(I-6). Will stay up if not killed.
Defeating him lowers the Troll Mercenaries' military force by 1.
Constantly uses Zarbzan (fire-based Ranged AoE Attack, classified as magic damage).
Immune to Gravity/Bind/Stun.
Will have random hate/targeting. It does respond to provoke but it is very minimal & short lived.
Seems to have some kind of random damage reduction. When attacking either from behind, or the front, some attacks did 0-9, Weaponskills for 35 damage. Other times attacks were 50-90, and weaponskills for 100-300.
Does not use any Troll special attacks/TP moves.
Special attacks: Eagle Eye Shot.(Used Multiple times.)
His Eagle Eye Shot is Dark Elemental Based & will go through Utsusemi/Blink. It produces varying damage from 205-1,299, and does not seem to be affected by physical defense.
Video