Fire Emblem Warriors: Three Hopes - The Loop
Play Sound
Walkthrough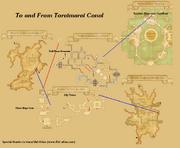 You must have your Rank Points bar approximately one third full in order to accept this mission. Turning in 9 regular crystals or 5 light/dark crystals enables the flagging of this mission.
Receive the mission from the gatehouse and then talk to the NPCs in this order. The Windurst Gate Guard and surrounding NPCs have additional dialogue.
Talk to Apururu at the Manustery in Windurst Woods (H-9).
Zone into Heavens Tower for a small cutscene.
Head up to the top of the tower to Star Sibyl in Heavens Tower for a cutscene.
Talk to Apururu at the Manustery again. Make sure you get a cutscene about helping the father out.
Game Description
Mission Orders

The Orastery Minister has awoken and the Bearer of Darkness once again terrorizes Heavens Tower. At the request of the Manustery you are to speak with a person imprisoned within the Boyahda Tree and discover the truth behind the doll of the dead.